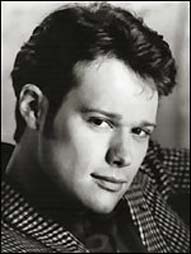 Jay Underwood portrayed Johnny Storm in Fantastic Four.
Significant roles
Chip Carson in Not Quite Human (1987)
Gus in A Year in the Life (1987)
Bug in Uncle Buck (1989)
Chip Carson in Not Quite Human II (1989)
Mike Walker/Kryptonite Kid in Superboy (1991)
Ernest Hemingway in The Young Indiana Jones Chronicles (1993)
Sonny Bono in And the Beats Goes On: The Sonny and Cher Story (1999)
Michael Daniels in Dancing in September (2000)
Alan Fischer in Road to Redemption (2001)
Mr. Entertainment in 44 Minutes: The Nort Hollywood Shoot-Out (2003)
Quotes
"I'm the complete opposite of the Torch... He's got a really quick temper and that's not really me. I think I would be a bit more passive. I like Aquaman because he swims around and gets the fish to do the work. That's more my speed."
"You've got to be careful … no matter how safe it seems, you've always got to be on top of things."
"I do not recommend playing with fire."
Ad blocker interference detected!
Wikia is a free-to-use site that makes money from advertising. We have a modified experience for viewers using ad blockers

Wikia is not accessible if you've made further modifications. Remove the custom ad blocker rule(s) and the page will load as expected.