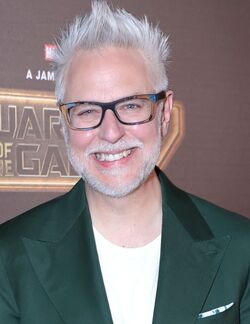 James Gunn is the co-writer and director of Guardians of the Galaxy and Guardians of the Galaxy Vol. 2 and will produced the the upcoming Avengers: Infinity War. He also cameoed as a Maskless Sakaaran in Guardians of the Galaxy.
Quotes
"I just don't find any room in my headspace for thinking my movies are superior or inferior to someone else's. I really just think about how can I make, for instance right now, how can I make Guardians Vol. 2 the greatest spectacle film of all time? That's all I care about so that's what I concentrate on. I don't really think about Marvel versus DC. And also any time a Marvel movie comes out that isn't as good as I wished it was or anytime a DC movie comes out that isn't as I wished it was, I'm disappointed because I love these characters. I grew up reading Marvel and DC comics. I want them all to be good."
Ad blocker interference detected!
Wikia is a free-to-use site that makes money from advertising. We have a modified experience for viewers using ad blockers

Wikia is not accessible if you've made further modifications. Remove the custom ad blocker rule(s) and the page will load as expected.