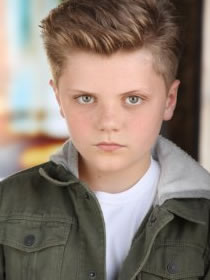 Jake Brennan portrayed Scout #4 in Agents of S.H.I.E.L.D. episode "FZZT".
Significant roles
Tommy in Laboring Lament (2009)
Franky Garrison in The American Experience (2012)
Albert Gans in The Silver Crown (2012)
Matt Small in Criminal Minds (2012)
Bobby Jessop in Dark Skies (2013)
Butler Torso in Sam & Cat (2013)
Young Jack in Super Buddies (2013)
Lincoln in Cooties (2014)
Richie Rich in Richie Rich (2015)
Quotes
Please add a list of quote from this performer about their work in Marvel Movies!
Ad blocker interference detected!
Wikia is a free-to-use site that makes money from advertising. We have a modified experience for viewers using ad blockers

Wikia is not accessible if you've made further modifications. Remove the custom ad blocker rule(s) and the page will load as expected.