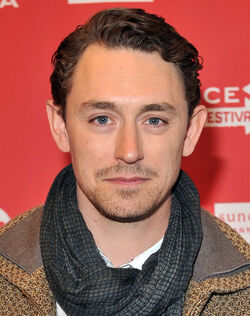 JJ Feild portrayed Montgomery Falsworth in Captain America: The First Avenger.
Significant roles
Jim in The Railway Children (2000)
Frank Cheerbyle in The Life and Adventures of Nicholas Nickleby (2001)
Young Jack in Jack and the Beanstalk: The Real Story (2001)
Tulse Luper/Floris Creps in The Tulse Luper Suitcases, Part I: The Moab Story (2003)
Tulse Luper in The Tulse Luper Suitcases: Antwerp (2003)
Tulse Luper in The Tulse Luper Suitcases, Part 3: From Sark to the Finish (2003)
Tulse Luper in The Tulse Luper Suitcases, Part 2: Vaux to the Sea (2004)
Tulse Luper in A Life in Suitcases (2005)
Henry Tinley in Northanger Abbey (2007)
Fred Garland in The Shadow in the North (2007)
Heinz Burt in Telstar: The Joe Meek Story (2008)
Paul Osbourne in Marple: The Pal Horse (2010)
Quotes
"I just finished Captain America a couple of weeks ago. I just got back from the States, so I'm in the country relaxing. Captain America was amazing. It took a very long time and it was a very physical job. I play one of the Captain's sidekicks so I've been running around shooting things and blowing things up and trying to look cool for about a year. I'm looking forward to relaxing and then finding some nice dialogue to speak. I'll never try and do the same job twice."
Ad blocker interference detected!
Wikia is a free-to-use site that makes money from advertising. We have a modified experience for viewers using ad blockers

Wikia is not accessible if you've made further modifications. Remove the custom ad blocker rule(s) and the page will load as expected.