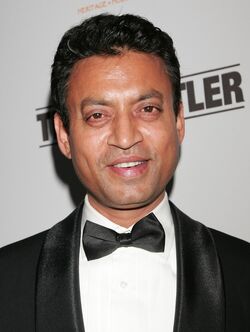 Irrfan Khan portrayed Rajit Ratha in The Amazing Spider-Man.
Significant roles
Ajit in Kamla Ki Maut (1989)
Naresh Tripathi in Vaade Iraade (1994)
Inspector Khan in Private Detective: Two Plus Two Plus One (1997)
Ramiz in Bombay Blue (1997)
Lafcadia in The Warrior (2001)
Maqbool in Maqbool (2003)
Inspector Uday Rathore in Rog (2005)
Ashoke in The Namesake (2006)
Captain in A Mighty Heart (2007)
The Father in The Darjeeling Limited (2007)
Police Inspector in Slumdog Millionaire (2008)
Billu in Billu (2009)
Tony Khosla in Knock Out (2010)
Adult Pi in Life of Pi (2012)
Quotes
"The role [in In Treatment] got me some good reviews there and I think the industry there is aware of my work. Marc Webb [sic] had seen me and wanted to work with me and he approached me for this role. I play one of the villains in the movie. It is a pivotal role."
"I don't know about it [his rumored role as a villain in TASM3]. Their film is still in ­theatres. I think now they will finalise the script and decide other things."
Trivia
He was originally announced to be playing "Van Atter", who becomes Protogoblin in the comics. His role was then changed and Protogoblin was dropped from the film.
The Amazing Spider-Man is not the only movie featuring Irfann Khan and a character named "Richard Parker" In Life of Pi, he plays adult Pi and the tiger's name is Richard Parker.
Ad blocker interference detected!
Wikia is a free-to-use site that makes money from advertising. We have a modified experience for viewers using ad blockers

Wikia is not accessible if you've made further modifications. Remove the custom ad blocker rule(s) and the page will load as expected.