Main system

The
Mark XXXIX Suborbital Armor
(nicknamed
Gemini
in books and concept art or
Starboost
in video games) is one of the many armors created by Tony after the New York Battle. It is specifically made for space travel, possibly inspired after Tony nearly died while in space.
Previous:
Iron Man armor (Mark XXXVIII)
- Next:
Iron Man armor (Mark XL)
Upgrades
Suit's external repulsors could propel it to escape velocity, just not fast enough to achieve orbit. It has an integrated, removable booster pack and zero-gravity maneuvering thrusters. The coloring of the suit, with gray and white armor and a gold faceplate, may have been designed to look like a space suit used by astronauts.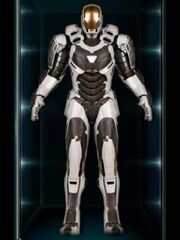 History
Iron Man 3
Gemini was created after the New York Battle and added to the Iron Legion. When the "House Party Protocol" was put into play, it and the rest of the Iron Legion flew to Florida to fight off the Extremis Soldiers. It was destroyed by either the Extremis soldiers or the "Clean Slate Protocol."
Trivia
Despite its high profile, it had almost no screen time in Iron Man 3.
This suit was not meant for extended space travel, and could not reach orbital velocity. It was able to enter space breifly, but not remain for extended periods of time.
This suit resembles the Outer Atmosphere Armor in function from the comics