Main system

The Mark XXVIII Radiation-Zone Suit (or Jack) was created after the events of
The Avengers
. It gets it's name Jack from the orange and black color scheme, looking like a real Car Jack.
Previous: Iron Man armor (Mark XXVII) Next: Iron Man armor (Mark XXIX)
Upgrades
It is orange with black stripes for the common way to warn people of radiation. It's faceplate resembles that of a hasmat symbol. It is an upgraded version of Gamma, not only able to stand Gamma radiation, but also nuclear radiation. It also seems to be able to resist the Extremis powers. There are rumors that it has Gamma-repulsors, but this is not conformed.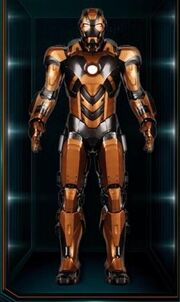 History
Iron Man 3
The suit was created after the New York battle. Tony realized that there couldn't be one suit that could do anything, so he started building suits specializing in certain areas, like radiation. Jack was placed into the Hall of Armor along with the rest of the Iron Legion. When the "House Party Protocol" was ordered, it and the rest of the Iron Legion flew to assist Tony in the Extremis battle. It was destroyed by the "Clean Slate Protocol."
Trivia
It is one of the few suits that can be seen being destroyed by the Clean Slate protocol.