Main system

The Mark XXVI Heavy Construction Suit Upgrade (or Gamma) was created after the battle of New York as an upgrade to
Thumper
. It gets its name Gamma for being able to resist Gamma radiation.

Previous: Iron Man armor (Mark XXV) Next: Iron Man armor (Mark XXVII)
Upgrades
able to withstand extreme heat and temperatures as well as very powerful and devastating electrical surges, as well as Gamma radiation, as it is built for. It is based off of the Mark 25 and can be used in dangerous situations. It is also colored Green and Black, possibly to remind Tony of his friend, Bruce Banner, who turns into a giant green monster.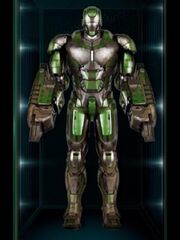 History
Iron Man 3
The suit was created after the New York battle. Tony realized that there couldn't be one suit that could do anything, so he started building suits specializing in certain areas, like radiation. Gamma was placed into the Hall of Armor along with the rest of the Iron Legion. When the "House Party Protocol" was ordered, it and the rest of the Iron Legion flew to assist Tony in the Extremis battle. It was either destroyed by the "Clean Slate Protocol" or the Extremis soldiers.
Trivia
This suit resembles the Anti-Radiation Armor in function from the comics.