Main system
The
Mark XL Hypervelocity armor
(or
Shotgun
) is one of the new Iron Man armors created by
Tony Stark
and is one of the
Iron Legion
.
Previous:
Iron Man armor (Mark XXXIX)
- Next:
Iron Man armor (Mark XLI)
Upgrades
The suit's main feature is the ability to lock into a tight, streamlined shape that blends arms ands legs into a single form while in flight mode. Large air intakes allow for speeds up to Mach 5. Despite its overall vulnerability, it does feature fully functional RT defenses, and the razor-thin retractable forearm panels could, under pressure, be used as effective blade weapons.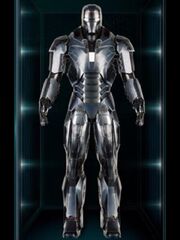 History
Iron Man 3
The Shotgun armor was created after the battle of New York by Tony Stark. Part of the Iron Legion, this was the third suit Tony wore in the battle against Killian and his Extremis soldiers. Following Pepper's apparent death Tony engaged Killian in a brutal fight of "Iron Man vs Extremis". Tony summouned one suit (resembling the Mark X) which was had it arms ripped off. Killian pushed Tony from a great height and the Shotgun surrounded him mid-fall. It demonstrated extremely rapid reaction time with its weaponry. However, it was eventually torn to pieces when Killian sliced through it with his burning hot hands.
Ad blocker interference detected!
Wikia is a free-to-use site that makes money from advertising. We have a modified experience for viewers using ad blockers

Wikia is not accessible if you've made further modifications. Remove the custom ad blocker rule(s) and the page will load as expected.