Main system
The
Mark XI armor
was the fourth suit created after the New York battle and the second in the series of Advanced Iron Man Suits.
Previous: Iron Man armor (Mark X) Next: Iron Man armor (Mark XII)
Upgrades
This suit features a new design and improved armor, which is later used in other models.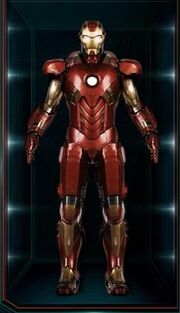 History
It was created after the New York City battle and placed into the Iron Legion. When the "House Party Protocol" was ordered, it and the other suits flew to Florida and helped Tony fight off the Extremis soldiers. It was destroyed by either the "Clean Slate Protocol" or the Extremis soldiers.
Ad blocker interference detected!
Wikia is a free-to-use site that makes money from advertising. We have a modified experience for viewers using ad blockers

Wikia is not accessible if you've made further modifications. Remove the custom ad blocker rule(s) and the page will load as expected.