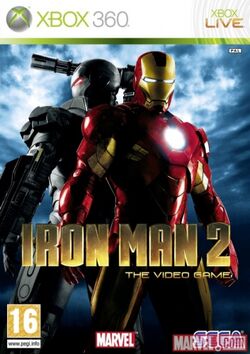 Iron Man 2: The Video Game is the sequel to Iron Man it is based loosely around the 2010 film Iron Man 2.
Platforms Available
Xbox 360
Playstation 3
Playstation Portable
Nintendo Wii
Nintendo DS
Mobile
iPhone
Microsoft Windows
Voice Cast
Eric Loomis - Tony Stark / Iron Man
Phil LaMarr - Col. James "Rhodey" Rhodes / War Machine (additional dialog)
John Eric Bentley - Nick Fury (additional dialog), S.H.I.E.L.D. Agents
Meredith Monroe - Pepper Potts
Catherine Campion - Natasha Romanoff / Black Widow, A.I.M. Soldiers
Dimitri Diatchenko - Valentin Shatalov / Crimson Dynamo, Additional Voices
Andrew Chaikin - JARVIS, Ultimo, A.I.M. Soldiers
Doug Boyd - Kearson DeWitt, Roxxon Soldiers
Denny Delk - A.I.M. Soldiers, Roxxon Soldiers
Roger L. Jackson - A.I.M. Soldiers. S.H.I.E.L.D. Agents
Adam Harrington - A.I.M. Soldiers, S.H.I.E.L.D. Agents
Ariel Goldberg - A.I.M. Soldiers, Additional Voices
Tim Talbot - S.H.I.E.L.D. Agents, Roxxon Soldiers
Steven Blum - Mauler, Ghost, S.H.I.E.L.D. Agents
Cedric Yarbrough - Firepower, S.H.I.E.L.D. Agents
David Boyll - Roxxon Soldiers
Andre Sogliuzzo - Ivan Vanko / Whiplash
Gallery
Ad blocker interference detected!
Wikia is a free-to-use site that makes money from advertising. We have a modified experience for viewers using ad blockers

Wikia is not accessible if you've made further modifications. Remove the custom ad blocker rule(s) and the page will load as expected.