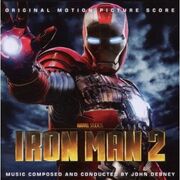 Iron Man 2 is the soundtrack to the the 2010 film of the same name composed by John Debney released on July 20, 2010 by Sony Records.
Track Listing
Ivan's Metamorphosis
House Fight V1
Making Pepper CEO
Senate / Ivan Creates Drones
Make Way For Tomorrow - Expo Version
Rhodey Dons Suit
Dying Hero
Natalie Intro
Monaco Drive
Mayhem In Monaco
Jailhouse Talk
Ivan Escapes
Gun Show
Tony Discovers Dad's Secret
Sledgehammer V2
Nick Fury
New Element / Particle Accelerator
Sledgehammer
New RT / To The Expo
Black Widow Kicks Ass
Iron Man Battles The Drones
Ivan's Demise / The Kiss
Thor
I Am Iron Man
Make Way For Tomorrow preformed by The Stark Expo Singers
Iron Man 2: AC/DC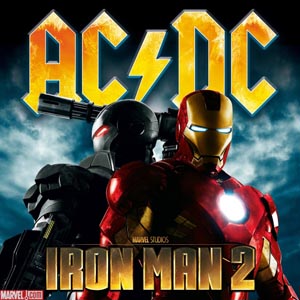 Sony also released Iron Man 2: AC/DC on April 19, 2010 from the rock band AC/DC.
Track Listing
Shoot to Thrill
Rock 'N' Roll Damnation
Guns for Hire
Cold Hearted Man
Back in Black
Thunderstruck
If You Want Blood (You've Got It)
Evil Walks
T.N.T.
Hell Ain't a Bad Place to Be
Have a Drink on Me
The Razor's Edge
Let There Be Rock
War Machine
Highway to Hell
Ad blocker interference detected!
Wikia is a free-to-use site that makes money from advertising. We have a modified experience for viewers using ad blockers

Wikia is not accessible if you've made further modifications. Remove the custom ad blocker rule(s) and the page will load as expected.