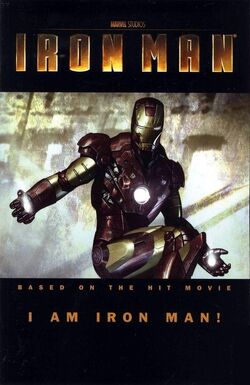 Iron Man: I Am Iron Man! is a two part comic which retells the events of Iron Man, showing some scenes that were omitted from the film.
Plot
Tony Stark is a billionaire weapons maker...who's given a taste of his own medicine. When he's wounded and taken prisoner in the Middle East and forced to build a missile for insurgents, Tony creates a suit of armor to keep him alive and blast his way out. Now Tony sees the folly of his greed, and sets out to right wrongs as the armored avenger...Iron Man!
Characters
Covers
Ad blocker interference detected!
Wikia is a free-to-use site that makes money from advertising. We have a modified experience for viewers using ad blockers

Wikia is not accessible if you've made further modifications. Remove the custom ad blocker rule(s) and the page will load as expected.