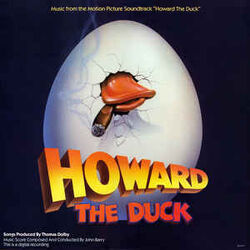 Howard the Duck is the soundtrack of the 1986 film of the same name and comprised of music composed by John Barry.
Track list
Hunger City
Howard The Duck
Don't Turn Away
It Don't Come Cheap
I'm on My Way
Lullaby of Duckland
Journey to Earth
You're the Duckiest
Ultralight Flight
Beddy-Bye for Howard
Dark Overlord
Ad blocker interference detected!
Wikia is a free-to-use site that makes money from advertising. We have a modified experience for viewers using ad blockers

Wikia is not accessible if you've made further modifications. Remove the custom ad blocker rule(s) and the page will load as expected.