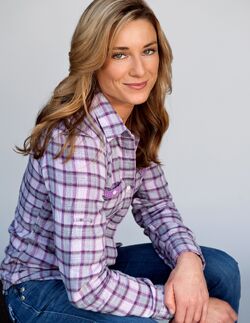 Heidi Moneymaker is Scarlett Johansson's stunt double in Iron Man 2, The Avengers and Captain America: The Winter Soldier.
Quotes
"I've doubled Scarlett Johansson, Drew Barrymore, Kerri Russell, Emily Browning, Michelle Rodriguez, Fergie (The Black Eyed Peas), Julie Benz, Jaime Pressly, Saoirse Ronan, and believe it or not, Frankie Muniz!"
"Scarlett was finishing filming We Bought a Zoo when we first started prepping for The Avengers, so we only had about five or six weeks to train before we started filming. Luckily, Scarlett is such a professional and works incredibly hard, so she learned all her fights and performed them with perfect execution. We would also take advantage of any time we had free during filming to sneak in a training session. She was trained in "hand-to-hand" fighting as well as some weapons training. She had many fights in the film, some one on one and some were multi-person fights."
"None of them were too "crazy," but I did get pulled through a window while it shattered due to an explosion and landed about 10 to 15 feet below."
"Scarlett did a lot of her fights, and any time she had the opportunity to try a stunt, she did! She always went the extra mile. She truly commits to her role as the Black Widow."
"Being fit plays a major role in my career. Not only must a stunt performer be in shape to match the body type of their actress, but in order to perform the kind of tricks, fights, and stunts that we do, one must have strength, agility, and endurance. Often we do take after take after take. I work out in some form almost every day. I usually take Saturday or Sunday off to rest. I do a lot of different types of martial arts training, gymnastics, I run, and I do yoga."
"I love what I do. I have always been just as big a fan of training as I am of performing. I get to spend my days off learning new skills and pushing myself, and I get to spend my workdays performing them. Working with Scarlett is such a pleasure. We are a great team. She is extremely nice and very motivated. I think we both want Black Widow to be amazing and therefore we work really hard to make her powerful and unique!"
Ad blocker interference detected!
Wikia is a free-to-use site that makes money from advertising. We have a modified experience for viewers using ad blockers

Wikia is not accessible if you've made further modifications. Remove the custom ad blocker rule(s) and the page will load as expected.