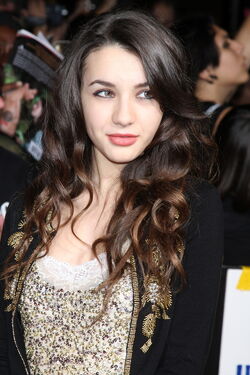 Hannah Marks portrayed Missy Kallenback in The Amazing Spider-Man.
Significant roles
Lizzie Gaines in Accepted (2006)
Harmony in Weeds (2008-2009)
Tammy in The Runaways (2010)
Annabelle Campos in Flashforward (2010)
Lindsay Santino in Necessary Roughness (2011)
Quotes
"I am playing the school nerd, Missy Kallenback, and I have a crush on Spider-Man. But, of course, I don't know he is Spider-Man so I actually have a crush on Peter Parker. So I am mostly swooning over him in it."
"He was awesome! I had no idea he was British actually, even though I have seen a lot of his films, so it was a shock hearing his British accent. He was really nice and totally welcoming, it was really fun to film with him. He made me feel really comfortable."
"It drives me to work more and work harder. I see all of their success and I'd love to be able to experience that as well."
"Just watching them was the main help, just observing them. They're so professional and so experienced that just watching them was the biggest lesson of all, because they are all so talented."