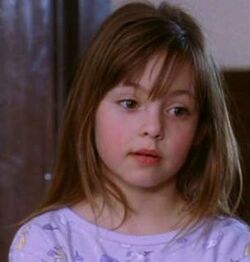 Haili Page portrayed Zoe in Blade: Trinity.
Significant roles
Young Nora in The Outer Limits (2001)
Kim in Door to Door (2002)
Six year old Mia in Just Cause (2002)
Megan Petty in The Chris Isaak Show (2002-2004)
Sarah Jane in The Stranger Beside Me (2003)
Cami in Battlestar Galactica (2003)
Sandy in Deadly Visions (2003)
Natasha Linden in We Don't Live Here Anymore (2004)
Carrie in The 4400 (2005)
Nicole Shepherd in Desolation Sound (2005)
Sairie in Supernatural (2005)
Hailie in The L Word (2007)
Quotes
Please add some quotes from this performer about their work in Marvel movies!
Ad blocker interference detected!
Wikia is a free-to-use site that makes money from advertising. We have a modified experience for viewers using ad blockers

Wikia is not accessible if you've made further modifications. Remove the custom ad blocker rule(s) and the page will load as expected.