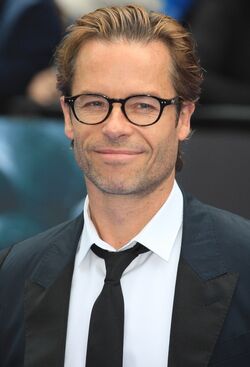 Guy Pearce will portray Aldrich Killian in the upcoming Iron Man 3.
Significant roles
Mike Young in Neighbours (1986-1989)
David Croft in Home and Away (1991)
Adam Whitley/Felicia Jollygoodfellow in The Adventures of Priscilla, Queen of the Desert (1994)
Rob McGregor in Snowy River: The McGregor Saga (1994-1996)
Errol Flynn in Flynn (1997)
Edmund J. Exley in L.A. Confidential (1997)
Capt. John Boyd in Ravenous (1999)
Maj. Mark Biggs in Rulse of Engagement (2000)
Leonard Shelby in Memento (2000)
Fernard Mondego in Montecristo (2002)
Alexander Hartdegen in The Time Machine (2002)
Charle Burns in The Proposition (2005)
Jimmy Starks in First Snow (2006)
Andy Warhol in Factory Girl (2006)
Harry Houdini in Death Defying Acts (2007)
Dr. Bruce Laraby in Winged Creatures (2008)
Roy Clayton in Traitor (2008)
Staff Sgt. Matt Thompson in The Hurt Locker (2008)
Kendall in Bedtime Stories (2008)
Veteran in The Road (2009)
King Edward VIII in The King's Speach (2010)
Alex in Don't Be Afraid of the Dark (2010)
Monty Beragon in Mildred Pierce (2011)
Simon in Seeking Justice (2011)
Snow in Lockout (2012)
Special Agent Charlie Rakes in Lawless (2012)
Peter Weyland in Prometheus (2012)
Quotes
"All I'm going to tell you, because I never talk about anything before I do it, is that I start in a couple of weeks, I'm sorry, but that's all I'm going to say."