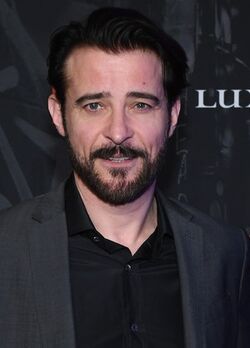 Goran Visnjic is the cast member who portrayed Mark Miller in Elektra. In his acting career, Visnjic has stared in the films The Deep End, The Last Will, The Counselor and Doctor Sleep, and lent his voice to the animated film Ice Age. In the movie "Practical Magic" he appears with Nicole Kidman, and in his next project 'Peacemaker', with George Clooney. Goran Visnjic was born 1972 in Sibenik, Croatia. Since young age he loved acting and was always active in local theater groups. After graduating from high school, Visnjic moved to Zagreb and enrolled at the Academy of Dramatic Arts. His acting skills have won him various Croatian awards and opened the door to Hollywood fame. Since 1999 Goran is marries to sculptor Eva Visnjic and together they have three children. Eva Visnjic is daughter to the famous Croatian director Antun Vrdoljak.
Significant roles
Risto Bavic in Welcome to Sarajevo (1997)
Jimmy Angeloy in Practical Magic (1998)
Dr. Luka Kovac in ER (1999-2008)
Alek "Al" Spera in The Deep End (2001)
Soto in Ice Age (2002)
Spartacus in Spartacus (2004)
Mark Miller in Elektra (2005)
David Leonard in Helen (2009)
Samson in The Deep (2010)
Quotes
Please add some quotes from this performer about their work with Marvel movies!
External References
Ad blocker interference detected!
Wikia is a free-to-use site that makes money from advertising. We have a modified experience for viewers using ad blockers

Wikia is not accessible if you've made further modifications. Remove the custom ad blocker rule(s) and the page will load as expected.