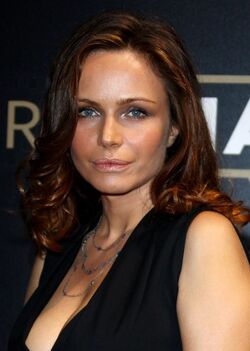 Francesca Neri portrayed Valentina de Santis in Captain America.
Significant roles
Lulù in Las etades de Lulú (1990)
Livia Sagonà in Al lupo, al lupo (1992)
Marta Rienzi in La corsa dell'innocente (1993)
Giulia in La mia generazione (1996)
Allegra Pazzi in Hannibal (2001)
Selena Perrini in Collateral Damage (2002)
Marguerite Gauthier in La signora delle camelie (2005)
Alma Kero in La cena per farli conoscere (2007)
Delia Casali in Il papà di Giovanna (2008)
Francesca in Una sconfinata giovinezza (2010)
Quotes
Please add some quotes from this perfomer about her work with Marvel movies!
Ad blocker interference detected!
Wikia is a free-to-use site that makes money from advertising. We have a modified experience for viewers using ad blockers

Wikia is not accessible if you've made further modifications. Remove the custom ad blocker rule(s) and the page will load as expected.