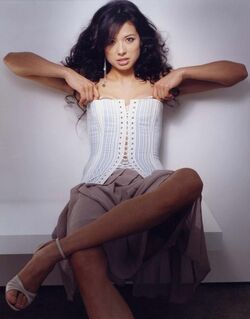 Françoise Yip portrayed Virago in Blade: Trinity.
Significant roles
Mei Lin in Hak hap (1996)
Jin in Freedom (2000-2001)
Jenny Wong in These Arms of Mine (2001)
Amy Li in Flatland (2002)
Dr. Lia Teng in Smallville (2003-2004)
Ms. Y in Aliens Vs. Predator 2 (2007)
Kate Lam in Blood Ties (2007-2008)
Chizuru Kagura in The King of Fighters (2010)
Quotes
"I've gotten some roles that haven't been specifically Asian, and even a couple roles that weren't specifically female. Like, my character in Blade: Trinity was supposed to be male but all of a sudden became female because I ended up playing it. So, I was thinking, Oh OK, so I can cross not only any ethnicity, but any gender!"
Ad blocker interference detected!
Wikia is a free-to-use site that makes money from advertising. We have a modified experience for viewers using ad blockers

Wikia is not accessible if you've made further modifications. Remove the custom ad blocker rule(s) and the page will load as expected.