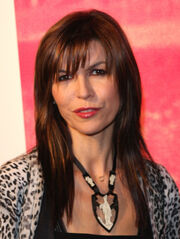 Finola Hughes portrayed Emma Frost/White Queen in Generation X.
Significant roles
Alison Graeme in The Master of Ballantrae (1984)
Chelsea Duffy in Jack's Place (1992-1993)
Carol in Blossom (1993-1995)
Lara in Superman: The Last Son of Krypton (1996)
Kate Russo in Pacific Palisades (1997)
Ronnie Fredericks in Jekyll Island (1998)
Dr. Alex Devane Marirck in All My Children (1999-2003)
Patty Halliwell in Charmed (1999-2006)
Anna Devane in General Hospital (1983-2008)
Quotes
Please add some quotes from this performer about their work in Marvel movies!
Ad blocker interference detected!
Wikia is a free-to-use site that makes money from advertising. We have a modified experience for viewers using ad blockers

Wikia is not accessible if you've made further modifications. Remove the custom ad blocker rule(s) and the page will load as expected.