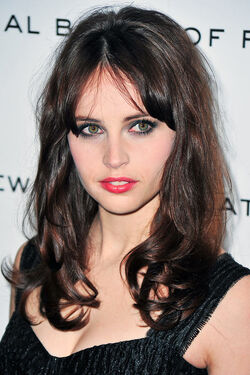 Felicity Jones portrayed Felicia Hardy in The Amazing Spider-Man 2.
Significant roles
Ethel Hallow in The Worst Witch (1998-1999)
Ethel Hallow in Weirdsister College (2002)
Catherine Morland in Northanger Abbey (2007)
Zoe Brogan in Cape Wrath (2007)
Young Ruth in Flashback of a Fool (2008)
Robina Redmond in Doctor Who (2008)
Cordelia Flythe in Brideshead Revisited (2008)
Margot Frank in The Diary of Anne Frank (2009)
Margot Frank in Masterpiece Theatre (2010)
Julie in Cemetery Junction (2010)
Miranda in The Tempest (2010)
Anna in Like Crazy (2011)
Kim in Chalet Girl (2011)
Julianne Worricker in Page Eight (2011)
Beth in Albatross (2011)
Emily Dalrymple in Hysteria (2011)
Dolly Thatcham in Cheerful Weather for the Wedding (2012)
Sophie in Breath In (2013)
Nelly Ternan in The Invisible Woman (2013)
Jane Wilde Hawking in The Theory of Everything (2014)
Jyn Erso in Rogue One: A Star Wars Story (2016)
Quotes
I've never done a superhero movie. It's very nice to you as an actor in several worlds to go and to experiment.
"It's TOP secret. I can tell you that she's sort of on the baddie's side, but I can't explain much more than that."
"Just the scale was incredible. It's a different challenge to be on an enormous set, surrounded by hundreds of extras, as opposed to just being 20 people in the room."
"It's all quite shrouded in secrecy, but I'm the Goblin's girlfriend - I'm in a relationship with him, and his accomplice. I'm on the dark side."
"I can't say actually. It's all in the vaults of Marvel. I love all that secrecy, I think it's great. It builds anticipation, there's too much transparency in everything these days."
"Oh, yeah, totally [I have a costume]! Absolutely! It's a medium that's very collaborative. Actors and directors work on things together. That's how I like to work, anyway. I don't want to be told what to do. I want to share it with someone and work it out together. You know that person better than anyone. That's my job."