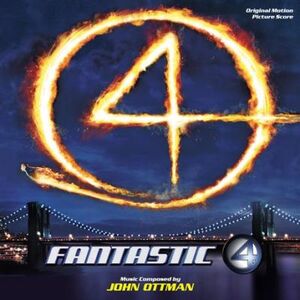 Fantastic Four is the soundtrack to the 2005 film of the same name composed by John Ottman released on July 12, 2005 by Varèse Sarabande.
Track list
Main Titles
Cosmic Storm
Superheroes
Experiments
Planetarium
Entanglement
Power Hungry
Changing
Lab Rat
Unlikely Saviors
Bye Bye Ned
Battling Doom
Bon Voyage
Fantastic Proposal
Fantastic Four: The Album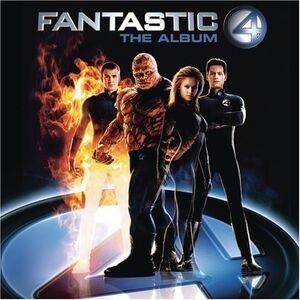 Wind-Up released Fantastic Four: The Album on June 28, 2005
Track list
"Come On, Come In" by Velvet Revolver
"Error: Operator" (demo version) by Taking Back Sunday
"Relax" by Chingy
"What Ever Happened to the Heroes" by Joss Stone
"Waiting (Save Your Life)" by Omnisoul
"Always Come Back to You" by Ryan Cabrera
"Everything Burns" by Ben Moody feat. Anastacia
"New World Symphony" byMiri Ben-Ari feat. Pharoahe Monch
"Die for You" (Fantastic Four mix) by Megan McCauley
"Noots" by Sum 41
"Surrender" (Cheap Trick cover) by Simple Plan
"I'll Take You Down" by T.F.F.
"On Fire" by Lloyd Banks
"Reverie" by Megan McCauley
"Goodbye to You" by Breaking Point
"Shed My Skin" by Alter Bridge
"In Due Time" by Submersed
"Disposable Sunshine" by Loser
"Now You Know" by Miss Eighty 6 feat. Classic
"Kirikirimai" (Fantastic Four remix) by Orange Range
Ad blocker interference detected!
Wikia is a free-to-use site that makes money from advertising. We have a modified experience for viewers using ad blockers

Wikia is not accessible if you've made further modifications. Remove the custom ad blocker rule(s) and the page will load as expected.