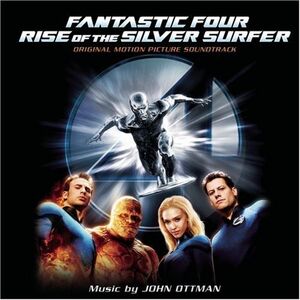 Fantastic Four: Rise of the Silver Surfer is the soundtrack to the 2007 film of the same name composed by John Ottman released on May 29, 2007 by Sony Classical Records.
Track list
Silver Surfer Theme
Galactus Destroys/Opening
Pursuing Doom
Wedding Day Jitters
Chasing the Surfer
Camp Testosterone/Meeting the Surfer
A Little Persuasion
Botched Heroics
Someone I Once Knew
The Future/Doom's Deal
Sibling Switch
Outside Help
Springing the Surfer
Doom's Double Cross
Mr. Sherman/Under the Radar
Four in One
Silver Savior/Aftermath
Gunshot Wedding
Norrin Radd
Ad blocker interference detected!
Wikia is a free-to-use site that makes money from advertising. We have a modified experience for viewers using ad blockers

Wikia is not accessible if you've made further modifications. Remove the custom ad blocker rule(s) and the page will load as expected.