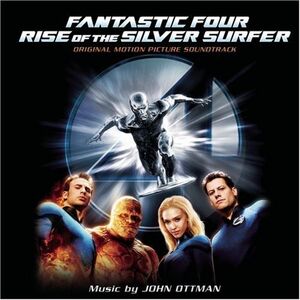 Fantastic Four: Rise of the Silver Surfer Original Motion Picture: Music composed by John Ottman.
Track list
1. Silver Surfer Theme
2. Galactus Destroys/Opening
3. Pursuing Doom
4. Wedding Day Jitters
5. Chasing the Surfer
6. Camp Testosterone/Meeting the Surfer
7. A Little Persuasion
8. Botched Heroics
9. Someone I Once Knew
10. The Future/Doom's Deal
11. Sibling Switch
12. Outside Help
13. Springing the Surfer
14. Doom's Double Cross
15. Mr. Sherman/Under the Radar
16. Four in One
17. Silver Savior/Aftermath
18. Gunshot Wedding
19. Norrin Radd
Ad blocker interference detected!
Wikia is a free-to-use site that makes money from advertising. We have a modified experience for viewers using ad blockers

Wikia is not accessible if you've made further modifications. Remove the custom ad blocker rule(s) and the page will load as expected.