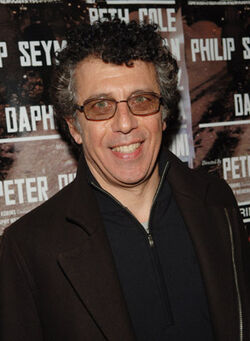 Eric Bogosian portrayed Bentley Tittle in Blade: Trinity.
Significant roles
Dee in Crime Story (1986)
Lt. Barney Greenwald in The Cain Mutiny Court-Martial (1988)
Barry in Talk Radio (1988)
Gary Rowenthal in Law & Order (1992-1993)
Peter in Dolores Claiborne (1995)
Travis Dane in Under Siege 2: Dark Territory (1995)
Professor Goodwin in Gossip (2000)
Alan Aulfield in Charlie's Angels: Full Throttle (2003)
Eddie Nash in Wonderland (2003)
Phil Lehsing in Love Monkey (2006)
Capt. Danny Ross in Criminal Intent (2006-2010)
Alan Freed in Cadillac Records (2008)
Quotes
"I mean, I do things and get involved with things that I'm a fan of, and I think the ultimate question in my household -- and because my wife is a director, we always ask it -- is, "Would you go to this? Would you go to see this? Is this something you would be interested in?" If it's not something we'd be interested in, we don't see what the point is in getting involved. Yeah, somebody shovels a ton of money at you, you're not going to be a shmuck. On the other hand, I like vampire movies, and showing up in Blade 3 for 10 minutes was kind of cool, and I had no problem with that."
Ad blocker interference detected!
Wikia is a free-to-use site that makes money from advertising. We have a modified experience for viewers using ad blockers

Wikia is not accessible if you've made further modifications. Remove the custom ad blocker rule(s) and the page will load as expected.