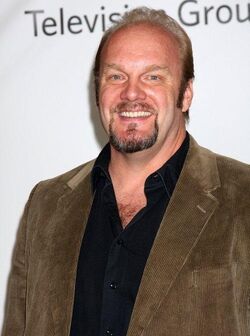 Eric Allan Kramer portrayed Thor in The Incredible Hulk Returns.
Significant roles
Ator in The Lord of Akili (1990)
Drew McCorey in Down Home (1990-1991)
Little John in Robin Hood: Men in Tights (1993)
Boris in True Romance (1993)
Isaac in Hope & Gloria (1995)
Drull in Lois & Clark: The New Adventures of Superman (1996)
Mike McGinley in Malcolm & Eddie (1997)
Dave Rogers in The Hughleys (1998-2002)
Alan Hare Jr. in Surviving Gilligan's Island: The Incredibly True Story of the Longest Three Hour Tour in History (2001)
Bear in American Wedding (2003)
Barry in Will & Grace (2005)
Pete in Hollywood Residential (2008)
Bob Duncan in Good Luck Charlie (2010-2014)
Bob Duncan in Good Luck Charlie, It's Christmas! (2011)
Quotes
"From what I have seen of him so far, that dude is a great choice. He will, undoubtedly, make me look worse then I already look as Thor!"
Ad blocker interference detected!
Wikia is a free-to-use site that makes money from advertising. We have a modified experience for viewers using ad blockers

Wikia is not accessible if you've made further modifications. Remove the custom ad blocker rule(s) and the page will load as expected.