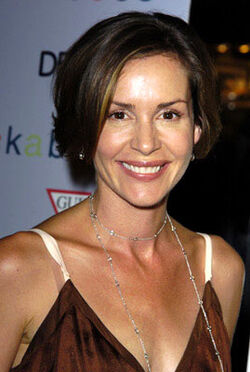 Embeth Davidtz portrayed Mary Parker in The Amazing Spider-Man and The Amazing Spider-Man 2.
Significant roles
Sheila in Army of Darkness (1992)
Helen Hirsch in Schindler's List (1993)
Mary McCasslin in Murder in the First (1995)
Miss Jennifer "Jenny" Honey in Mathilda (1996)
Gretta Milano in Fallen (1998)
Mallory Doss in The Gingerbread Man (1998)
Mary Crawford in Mansfield Park (1999)
Amanda Martin/Portia Charney in Bicentennial Man (1999)
Natasha in Bridget Jones's Diary (2001)
Dr. Philippa Horwood in The Hole (2001)
Kalina Oretzia in 13 Ghosts (2001)
Madeleine in Junebug (2005)
Jennifer Crawford in Fracture (2007)
Amy in In Treatment (2008)
Joan Laraby in Winged Creatures (2008)
Rebecca Pryce in Mad Men (2009)
Felicia Koons in Californication (2009)
Annika Blomkvist Giannini in The Girl with the Dragon Tattoo (2011)
Quotes
Please add some quotes from the performer about their work in Marvel Movies!
Ad blocker interference detected!
Wikia is a free-to-use site that makes money from advertising. We have a modified experience for viewers using ad blockers

Wikia is not accessible if you've made further modifications. Remove the custom ad blocker rule(s) and the page will load as expected.