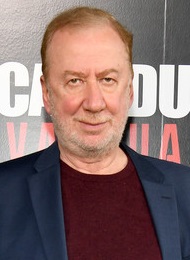 Elya Baskin portrayed Mr. Ditkovich in Spider-Man 2 and Spider-Man 3.
Significant roles
Severinus in Der Name der Rose (1986)
Yuri Demetri in McGyver (1986-1987)
Yuri in True Blood (1989-1990)
General Borschevsky in Austin Powers: International Man of Mystery (1997)
Andrei Kolchak in Air Force One (1997)
Ike Bykovsky in October Sky (1999)
Father Vadim in Runaway Virus (2000)
Anotoly Dobrinyn in Thirteen Days (2000)
Borovinsky in The Agency (2001-2002)
Caiphas in Color of the Cross (2006)
Quotes
Please add some quotes from this performer about their work in Marvel movies!
Ad blocker interference detected!
Wikia is a free-to-use site that makes money from advertising. We have a modified experience for viewers using ad blockers

Wikia is not accessible if you've made further modifications. Remove the custom ad blocker rule(s) and the page will load as expected.