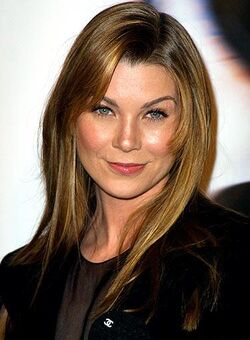 Ellen Pompeo portrayed Karen Page in Daredevil.
Significant roles
Martha in In the Weeds (2000)
Bertie Knox in Moonlight Mile (2002)
Marci in Catch Me If You Can (2002)
Nicole in Old School (2003)
Dr. Meredith Grey in Grey's Anatomy (2005-2015)
Quotes
"I only worked a couple of days on Daredevil. I play Karen Page who is the girl who works in the office. It looks like it is going to be a fantastic movie. I haven't seen it yet but I know that they are really trying to do it just right because I know there are millions of fans who want to see it done perfectly. I think they are making every effort to make them happy. All of my scenes are with Jon Favreau and Ben Affleck. They are a lot of fun. I had just done Old School with Vince Vaughn and Vince Vaughn and Jon Favreau are really good friends. It's almost like working with the same person so it was funny to go from one set to the next."
Ad blocker interference detected!
Wikia is a free-to-use site that makes money from advertising. We have a modified experience for viewers using ad blockers

Wikia is not accessible if you've made further modifications. Remove the custom ad blocker rule(s) and the page will load as expected.