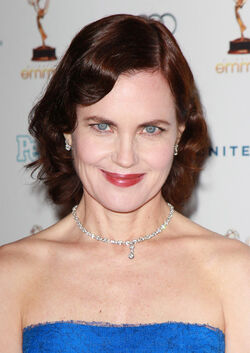 Elizabeth McGovern portrayed Mrs. Lizewski in Kick-Ass.
Significant roles
Jeannine Pratt in Ordinary People (1980)
Evelyn Nesbit in Ragtime (1981)
Deborah Gelly in Once Upon a Time in America (1984)
Caddie Winger in Racing with the Moon (1984)
Snow White in Faerie Tale Theatre (1984)
Mary Dalton in Native Son (1986)
Kristy Briggs in She's Having a Baby (1988)
Donna McCarty in Johnny Handsome (1989)
Beatrice-Joanna/Helena Schwartz in Performance (1992-1993)
Emily Embrey in The Favor (1994)
Jessie Kent in If Not for You (1995)
Susan "Susie" Stringham in The Wings of the Dove (1997)
Marquerite Blakeney in The Scarlet Pimpernel (1999)
Mrs. Carry Fisher in The House of Mirth (2000)
Laura Davis in Three Moons Over Milford (2006)
Mrs. Honeychurch in A Room with a View (2007)
Dame Celia Westholme in Agatha Christie's Poirot (2008)
Marmara in Clash of the Titans (2010)
Cora Crowley, Countess of Grantham in Downtown Abbey (2010-2012)
Jane in Angels Crest (2011)
Quotes
Please add some quotes from this perfomer about her work with Marvel movies!
Ad blocker interference detected!
Wikia is a free-to-use site that makes money from advertising. We have a modified experience for viewers using ad blockers

Wikia is not accessible if you've made further modifications. Remove the custom ad blocker rule(s) and the page will load as expected.