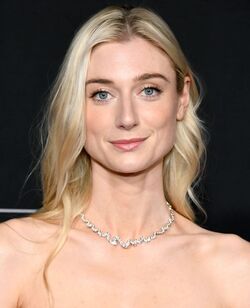 Elizabeth Debicki portrayed Ayesha in Guardians of the Galaxy Vol. 2.
Significant roles
Jordan Baker in The Great Gatsby (2013)
Lady Macduff in Macbeth (2015)
Victoria Vinciguerra in The Man from U.N.C.L.E. (2015)
Dr. Caroline Mackenzie in Everest (2015)
Jed Marshall in The Night Manager (2016)
Dr. Anna Macy in The Kettering Incident (2016)
Eva in Breath (2017)
Mrs. G in The Tale (2017)
Quotes
Please add some quotes from this performer about their work in Marvel Movies!
Ad blocker interference detected!
Wikia is a free-to-use site that makes money from advertising. We have a modified experience for viewers using ad blockers

Wikia is not accessible if you've made further modifications. Remove the custom ad blocker rule(s) and the page will load as expected.