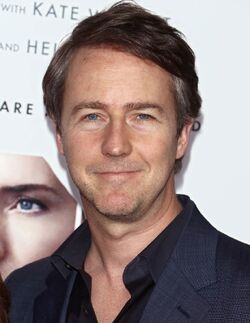 Edward Norton portrayed Bruce Banner in The Incredible Hulk.
He re-wrote much of the screenplay for the film before and during filming, although he is not credited as a writer. .[1]
Significant roles
Eisenheim in The Illusionist (2006)
King Baldwin in Kingdom of Heaven (2005)
Monty Brogan in 25th Hour (2002)
Will Graham in Red Dragon (2002)
Nelson Rockefeller in Frida (2002)
The Narrator in Fight Club (1999)
Derek Vinyard in American History X (1998) (oscar nominated)
Aaron Stampler in Primal Fear (1996) (oscar nominated)
Quotes
"I thought it was an amazing opportunity to put our hands on one of the really classic modern mythologies. And take it seriously."
"Mark is like a brother to me. Besides, he's got two kids, and I'm really happy he gets to have this moment with them."
"I didn't watch the movie yet, it's not a priority."
References
↑ Zak Penn Receives Sole Writing Credit on THE INCREDIBLE HULK, Robert Sanchez, iesb.net, June 4, 2008
External Links
Ad blocker interference detected!
Wikia is a free-to-use site that makes money from advertising. We have a modified experience for viewers using ad blockers

Wikia is not accessible if you've made further modifications. Remove the custom ad blocker rule(s) and the page will load as expected.