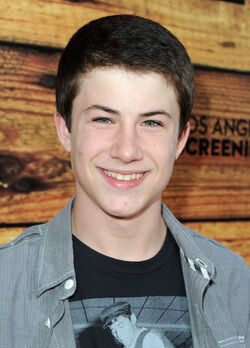 Dylan Minnette portrayed Donnie Gill in Agents of S.H.I.E.L.D.
Significant roles
Young Michael in Prison Break (2005-2006)
Iggy Thistlewhite in The Year without a Santa Claus (2006)
Clay Norman in Saving Grace (2007-2010)
Noah in Snow Buddies (2008)
Pierce Wilkins in Ghost Whisperer (2008)
David Shepard in Lost (2010)
Kenny in Blood Story (2010)
Reed in Men of a Certain Age (2010-2011)
Rex Britten in Awake (2012)
High School Henry in Labor Day (2013)
Ralph Dover in Prisoners (2013)
Anthony in Alexander and the Terrible, Horrible, No Good, Very Bad Day (2014)
Quotes
Please add some quotes from this performer about their work in Marvel Movies!
Ad blocker interference detected!
Wikia is a free-to-use site that makes money from advertising. We have a modified experience for viewers using ad blockers

Wikia is not accessible if you've made further modifications. Remove the custom ad blocker rule(s) and the page will load as expected.