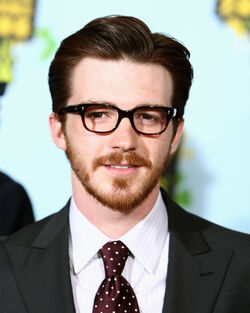 Drake Bell voiced Peter Parker/Spider-Man in Ultimate Spider-Man: Great Power/Great Responsibility.
Significant Roles
Please add a list of Drake Bell's significant roles!
Quotes
"There's tons of different [versions of Spider-Man]. He's in high school. He doesn't have, the webs don't come out of his arms. He's a science nerd, so he figured out how to make sticky web substance and they're called web shooters. So it's more like the 'Ultimate Spider-Man' comic book than the Tobey Maguire [movie] or the new 'Amazing Spider-Man' or anything like that."
Links
Ad blocker interference detected!
Wikia is a free-to-use site that makes money from advertising. We have a modified experience for viewers using ad blockers

Wikia is not accessible if you've made further modifications. Remove the custom ad blocker rule(s) and the page will load as expected.