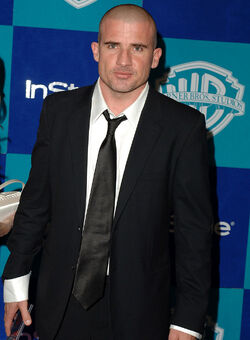 Dominic Purcell portrayed Dracula/Drake in Blade: Trinity.
Significant roles
Bulkington in Moby Dick (1998)
Ulrich in Mission: Impossible II (2000)
Seamus in Equilibrium (2002)
John Doe in John Doe (2002-2003)
Harris McKay in The Gravedancers (2006)
Lincoln Burrows in Prison Break (2005-2009)
Quotes
"Now I am recognizable I get, "You're the guy from Blade, Dracula?" Sometimes you get to a point where it's becoming every day life. I was at the airport and this security guy was looking at me and I knew straight away what was going on in his head. And I went, "Yep, yep." I finished it for him. You can see that beat in his head."
Ad blocker interference detected!
Wikia is a free-to-use site that makes money from advertising. We have a modified experience for viewers using ad blockers

Wikia is not accessible if you've made further modifications. Remove the custom ad blocker rule(s) and the page will load as expected.