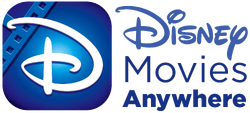 Disney Movies Anywhere
is a website and mobile app that presents a fast and easy way to organize your Disney movies digitally
For the first time, users can connect their iTunes and Google Play accounts to the service, either by downloading the free app or by logging on to the website, and the system will organize all Disney, Pixar and Marvel films that they purchased on iTunes as well as digital copies of films redeemed from Blu-ray/DVDs of movies.
External Links
Ad blocker interference detected!
Wikia is a free-to-use site that makes money from advertising. We have a modified experience for viewers using ad blockers

Wikia is not accessible if you've made further modifications. Remove the custom ad blocker rule(s) and the page will load as expected.