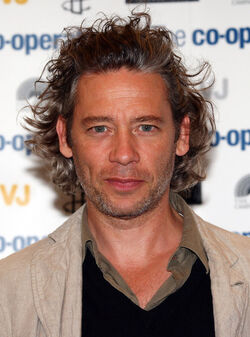 Dexter Fletcher portrayed Cody in Kick-Ass.
Significant roles
Gavroche in Les miserables (1978)
Seaman Thomas Ellison in The Bounty (1984)
Young Caravaggio in Caravaggio (1986)
Spike Thomson in Press Gang (1989-1993)
Rehoboam in Solomon (1997)
Soap in Lock, Stock and Two Smoking Barrels (1998)
Humphry Davie in Pandaemonium (2000)
SSgt. John Martin in Band of Brothers (2001)
Kingsley in Below (2002)
Pinky in Doom (2005)
Sir Thomas Radcliffe - Earl of Sussex in The Virgin Queen (2006)
Count Friedrich in Robin Hood (2006)
Tony Casemore/Bobby Mack in Hotel Babylon (2006-2009)
Mike Young in Misfits (2009-2010)
Detective Edwards in Jack Falls (2011)
D'Artagnan's Father in The Three Musketeers (2011)
Quotes
Please add some quotes from this perfomer about his work with Marvel movies!
Ad blocker interference detected!
Wikia is a free-to-use site that makes money from advertising. We have a modified experience for viewers using ad blockers

Wikia is not accessible if you've made further modifications. Remove the custom ad blocker rule(s) and the page will load as expected.