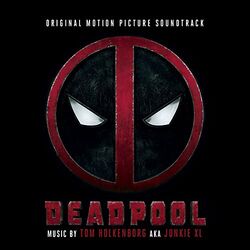 Deadpool is the soundtrack of the 2016 film of the same name and comprised of music composed by Junkie XL.
Track list
Angel of the Morning – Juice Newton
Maximum Effort
Small Disruption
Shoop – Salt-N-Pepa
Twelve Bullets
Man In A Red Suit
Liam Neeson Nightmares
Calendar Girl – Neil Sedaka
The Punch Bowl
Back To Life
Every Time I See Her
Deadpool Rap – Teamheadkick
Easy Angel
Scrap Yard
This Place Looks Sanitary
Watership Down
X Gon' Give It To Ya - DMX
Going Commando
Let's Try To Kill Each Other
Stupider When You Say It
Four Or Five Moments
A Face I Would Sit On
Careless Whisper – WHAM!
Ad blocker interference detected!
Wikia is a free-to-use site that makes money from advertising. We have a modified experience for viewers using ad blockers

Wikia is not accessible if you've made further modifications. Remove the custom ad blocker rule(s) and the page will load as expected.