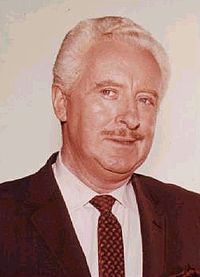 The late David White portrayed Mr. Jameson in The Amazing Spider-Man.
Significant Roles
Brinkley in The Twilight Zone (1960-1962)
Mr. Lassiter in Sunrise at Campobello (1960)
Dr. Hammond in The Great Impostor (1961)
Carlson in McKeever & The Colonel (1962-1963)
Madison Cooper in Burke's Law (1964)
Larry Tate in Bewitched (1964-1972)
Dr. Gavin in Dynasty (1986)
Quotes
Please add quotes from this performer about their work in Marvel Movies!
Ad blocker interference detected!
Wikia is a free-to-use site that makes money from advertising. We have a modified experience for viewers using ad blockers

Wikia is not accessible if you've made further modifications. Remove the custom ad blocker rule(s) and the page will load as expected.