"The Path of the Righteous" is the eleventh episode of season one of Daredevil.
Plot
Fisk and Murdock wrestle with the consequences of their chosen paths, while Ben and Karen get closer to Fisk's true past.
Cast
Continuity and References to the Marvel Cinematic Universe
Trivia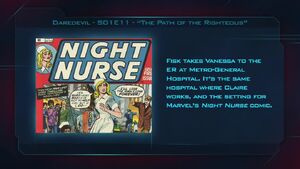 Gallery
To be added
Links
To be added
Ad blocker interference detected!
Wikia is a free-to-use site that makes money from advertising. We have a modified experience for viewers using ad blockers

Wikia is not accessible if you've made further modifications. Remove the custom ad blocker rule(s) and the page will load as expected.