"World on Fire" is the fifth episode of season one of Daredevil.
Plot
Fisk moves forward with plans that threaten to rip Hell's Kitchen apart. Murdock and Foggy take on a case helping tenants victimised by a slumlord.
Cast
Continuity and References to the Marvel Cinematic Universe
Trivia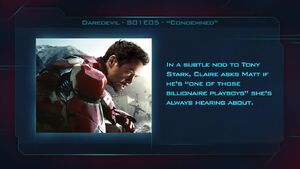 Gallery
Links
To be added
Ad blocker interference detected!
Wikia is a free-to-use site that makes money from advertising. We have a modified experience for viewers using ad blockers

Wikia is not accessible if you've made further modifications. Remove the custom ad blocker rule(s) and the page will load as expected.