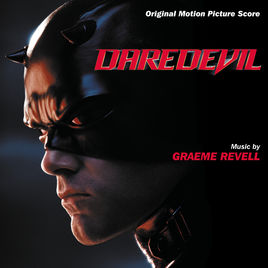 Daredevil is the soundtrack to the 2003 film of the same name composed by Graeme Revell released on March 4, 2003 by Varèse Sarabande.
Track list
Daredevil Theme
Young Matt's Father
Hell's Kitchen
Matt Becomes Daredevil
The Kingpin
The Darkest Hour
Bullseye
Elektra
Mistaken Identity
Nachios' Assassination
Elektra vs. Bullseye
Blind Justice
Church Battle
Falling Rose
The Necklace
Daredevil: The Album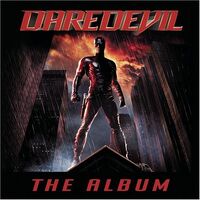 Wind-up Records released Daredevil: The Album on March 4, 2003.
Track list
"Won't Back Down" by Fuel
"For You" by The Calling
"Bleed For Me" by Saliva
"Hang On" by Seether
"Learn the Hard Way" by Nickelback
"The Man Without Fear" by Drowning Pool (feat. Rob Zombie)
"Right Now" by Nappy Roots (feat. Marcos Curiel of P.O.D.)
"Evening Rain" by Moby
"Bring Me to Life" by Evanescence (feat. Paul McCoy of 12 Stones)
"Until You're Reformed" by Chevelle
"Right Before Your Eyes" by Hoobastank
"Fade Out/In" by Paloalto
"Caught in the Rain" by Revis
"High Wire Escape Artist" by Boysetsfire
"Raise Your Rifles" by Autopilot Off
"Daredevil Theme [Blind Justice Remix]" by Graeme Revell and Mike Einziger
"My Immortal" by Evanescence
"Sad Exchange" by Finger Eleven
"Simple Lies" by Endo
"Let Go" by 12 Stones
Ad blocker interference detected!
Wikia is a free-to-use site that makes money from advertising. We have a modified experience for viewers using ad blockers

Wikia is not accessible if you've made further modifications. Remove the custom ad blocker rule(s) and the page will load as expected.