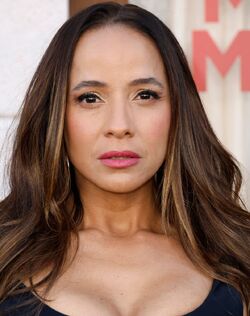 Dania Ramirez portrayed Callisto in X-Men: The Last Stand.
Significant roles
Daphne in 25th Hour (2002)
Laurie Rodriguez in Little Black Boot (2004)
Alex Guerrero in She Hate Me (2004)
Elena in Romy and Michele: In the Beginning (2005)
Sadie in Quarantine (2008)
Quotes
"I am still excited, it is a huge franchise, international phenomenon, and X-Men 1 and X-Men 2 are so big. Being a part of it and knowing that I was going to get a chance to work with such amazing actors and respected in the business it was just an amazing opportunity and I have been a fan of Brett's [Ratner] work for a really long time so more than anything when I auditioned for the movie I hadn't seen X 1 and X 2 and I am just one of those people, I don't watch a lot of TV. I was excited about getting the opportunity to work with Brett Ratner and then I found out that there were all of these amazing people involved in the movie and it was just exciting. The whole journey has been amazing."
"I enjoyed kicking Halle's butt, the whole preparation for the scenes was really hard. I trained for about a month and a half kickboxing, and weights, and hiking, and running, and anything and everything you could possibly imagine. That whole process was kind of hard and we did practice the fights for a couple of weeks before we actually shot it and then they break it into different pieces so you are not actually going through the whole thing at once. The most challenging part about that was just trying not to hit Halle for real."
"I also think, my character is the leader of the Morelocks, I have people that follow me and I am the leader and I think I like the fact that he is a leader and he believes and I know that this is bigger than me. The fact that he is a class 5 mutant, correct me if I am wrong, he has bigger powers and I feel like joining him will get me to be successful at fighting this cause. Famke [Janssen] is class 5 so he is probably like 4 and a half, he can't be just 4. He is pretty powerful, anybody that can control metal."
"For me the most rewarding part was to get to work with Brett and to get a chance to work opposite Halle and Sir Ian McKellen and meet all of these amazing people. Aaron [Stanford] is such a great actor, it is a learning process, acting, and I think I don't know it all and to get the opportunity to be on set everyday with people that are so great and just sit back and watch them-"
Ad blocker interference detected!
Wikia is a free-to-use site that makes money from advertising. We have a modified experience for viewers using ad blockers

Wikia is not accessible if you've made further modifications. Remove the custom ad blocker rule(s) and the page will load as expected.