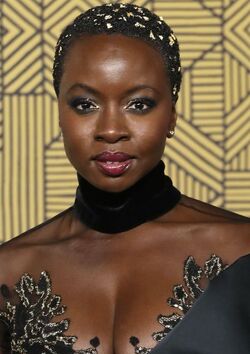 Danai Gurira will portray Okoye in Black Panther and Avengers: Infinity War.
Significant roles
Zainab in The Visitor (2007)
Jill in Treme (2010-2011)
Michonne in The Walking Dead (2012 - )
Adenike Balogun in Mother of George (2013)
Quotes
"I grew up seeing a lot of superheroes and they didn't look like me and they certainly weren't in Africa. I think that it is something great for girls who are like me growing up. Growing up in Africa, we were looking for images we couldn't always find."
"I want to see stories coming from the black female perspective. We're at a far better moment than we were at in the past, but there's a lot of work to be done."
Ad blocker interference detected!
Wikia is a free-to-use site that makes money from advertising. We have a modified experience for viewers using ad blockers

Wikia is not accessible if you've made further modifications. Remove the custom ad blocker rule(s) and the page will load as expected.