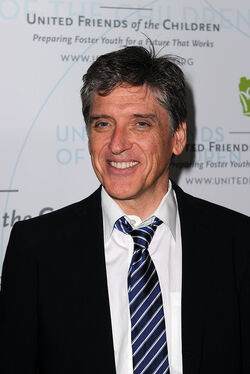 Craig Ferguson appeared as himself in Kick-Ass.
Significant roles
Confidence in Red Dwarf (1988)
Scot in Chelmsford 123 (1988)
Big Mick in Dream Baby (1989)
Glaswegian in One Foot in the Grave (1993)
Logan McDonough in Maybe This Time (1995-1996)
Roddy MacStew in Freakazoid! (1995-1997)
Peter Church in Almost Perfect (1996)
Nigel Wick in The Drew Carey Show (1996-2004)
Richard in Modern Vampires (1998)
Epsilon/Orion in Hercules (1998)
Jope in The Wild Thornberrys (1999)
Matthew Stewart in Saving Grace (2000)
Karaoke Crowd in One Life Stand (2000)
Frankie in Born Romantic (2000)
Melander Stevens in Chain of Fools (2000)
NOS-4-A2 in Buzz Lightyear of Star Command (2000)
Marty's Pimple in Rock & Roll Back to School Special (2001)
Samuel T. Philander in The Legend of Tarzan (2001)
Jared O'Reilly in Life Without Dick (2002)
Richard Fraser in Prendimi l'anima (2002)
Paul Kerr in I'll Be There (2003)
Person of Indeterminate Gender in Lemony Snicket's A Series of Unfortunate Events (2004)
Olver Davies in Life as We Know It (2005)
Dr. Richard Wagner in Lenny the Wonder Dog (2005)
Phillie in Niagara Motel (2006)
Evil Barry in American Dad! (2006)
Ted Truman in Trust Me (2007)
Gobber the Belch in How to Train Your Dragon (2010)
Susan Boil in Futurama (2010)
Gobber the Belch in Legend of the Boneknapper Dragon (2010)
Owl in Winnie the Pooh (2011)
Gobber the Belch in Dragons: Gift of the Night Fury (2011)
Gobber the Belch in Book of Dragons (2011)
Owl in Mini Adventures of Winnie the Pooh (2011)
Lord Macintosh in Brave (2012)
Gobber the Belch in How to Train Your Dragon 2 (2014)
Quotes
Please add some quotes from this perfomer about his work with Marvel movies!
Ad blocker interference detected!
Wikia is a free-to-use site that makes money from advertising. We have a modified experience for viewers using ad blockers

Wikia is not accessible if you've made further modifications. Remove the custom ad blocker rule(s) and the page will load as expected.