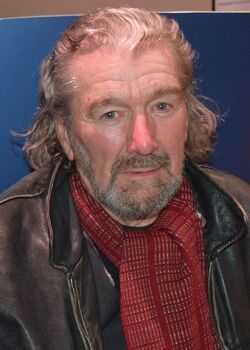 Clive Russell portrayed Tyr in Thor: The Dark World.
Significant roles
Lt. Ludwig von Hammerstein in The Wednesday Plan (1964)
Phil Nail in Coronation Street (1983-2006)
Alan Simpson in Screen One (1991-1992)
Victor Stone in Metropolitan Police (1992-2009)
Caleb Garth in Middlemarch (1994)
Danny Fitzgerald in Cracker (1995)
Kevin Mott in The Peter Principle (1995-1997)
Mr. Vandemaar in Neverwhere (1996)
Boaz in Testament: The Bible in Animation (1996)
Duggie Strachen in Heartburn Hotel (1998-2000)
Joe Gargery in Great Expectations (1999)
Phil Jakes in Hope & Glory (2000)
Damien Knox in Spaced (2001)
Angus O'Connor in Happiness (2001-2003)
Callum in Being April (2002)
Dr. Gordon Urquhart in Rockface (2002-2003)
Newson in The Mayor of Casterbridge (2003)
Gary Turnbull in Auf Wiedersehen, Pet (2004)
Billy Wilson in Shameless (2004)
Frank Malloy in Holby City (2004-2010)
Jack Atwell in According to Bex (2005)
Professor Howard in My Family (2006)
MacPhereson in Mist: The Tale of a Sheepdog Puppy (2006)
MacPhereson in Mist: Sheepdog Tales (2007-2009)
Cousin Finlay in Made of Honor (2008)
Hoffmeister in Lezione 21 (2008)
Bayard in Merlin (2008)
Wyburd in Book of Blood (2009)
Seth Comfort in Midsummer Murders (2009)
Christiano Cucci in Hotel Babylon (2009)
Jock in Jam & Jerusalem (2009)
Captain Tanner in Sherlock Holmes (2009)
Beame in The Wicker Tree (2010)
MacQueen in Wolfman (2010)
James Compston in North Atlantic (2010)
Captain Tanner in Sherlock Holmes: A Game of Shadows (2011)
Ser Brynden Tully in Game of Thrones (2013)
Significant roles
Please add some quotes from this perfomer about his work with Marvel movies!
Ad blocker interference detected!
Wikia is a free-to-use site that makes money from advertising. We have a modified experience for viewers using ad blockers

Wikia is not accessible if you've made further modifications. Remove the custom ad blocker rule(s) and the page will load as expected.