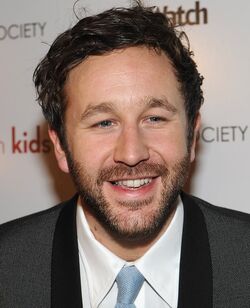 Chris O'Dowd portrayed Richard in Thor: The Dark World.
Significant roles
Brendan Davenport in The Clinic (2003-2005)
Headmaster in The Amazing Mrs. Pritchard (2006)
Roy Trenneman in The IT Crowd (2006-2010)
Liam in Hotel Very Welcome (2007)
Jase in Roman Empire (2007)
Ray in Frequently Asked Questions About Time Travel (2009)
Lindsay Carol in FM (2009)
Santa in Little Crackers (2010)
William Rackhman in The Crimson Petal and the White (2011)
Rhodes in Bridesmaids (2011)
Alex in Friends with Kids (2011)
Dave in The Sapphires (2012)
Sean Murphy in Moone Boy (2012)
Thomas-John in Girls (2012-2013)
Felix Dennis in Hippie Hippie Shake (2013)
Tom Chadwick in Family Tree (2013)
Quotes
"I think I'll do more dramatic stuff and I think I have some stuff coming out that's a bit more dramatic. I don't know if I'd do an action movie because I don't know if I could keep a straight face honestly, I just think it's so silly. Like I love watching them but I can't imagine me doing one. Actually, you know what I've done, just for fun because I didn't think there was any way that I could be in a superhero movie, so I've done a scene in the new Thor movie, just for that. I just do like one scene, which was fun."
"So today I'm filming a date scene with Natalie Portman."
"I figure I'll never otherwise be in a superhero movie. I don't know what I'm allowed to say, but essentially I go on a date with Natalie Portman. That was the sell, and that's all I needed to know."
Ad blocker interference detected!
Wikia is a free-to-use site that makes money from advertising. We have a modified experience for viewers using ad blockers

Wikia is not accessible if you've made further modifications. Remove the custom ad blocker rule(s) and the page will load as expected.