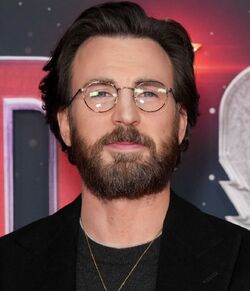 Chris Evans portrayed Johnny Storm/Human Torch in Fantastic Four and Fantastic Four: Rise of the Silver Surfer. He also portrayed Steve Rogers/Captain America in Captain America: The First Avenger, The Avengers, Agent Carter, Captain America: The Winter Soldier, Avengers: Age of Ultron, Ant-Man and Captain America: Civil War and Spider-Man: Homecoming and will reprise the role in Avengers: Infinity War and Avengers 4. He also has an uncredited cameo in Thor: The Dark World as Loki impersonating Captain America.
Significant roles
Judd in The Newcomers (2000)
Cary Baston in Opposite Sex (2000)
Jake Wyler in Not Another Teen Movie (2001)
Adam in Eastwick (2002)
Kyle in The Perfect Score (2004)
Ryan in Cellular (2004)
Seth King in The Orphan King (2005)
Bryce in Fierce People (2005)
Syd in London (2005)
Casey Jones in TMNT (2007)
Mace in Sunshine (2007)
Harvard Hottie in The Nanny Diaries (2007)
Stewart Stanton in Terra (2007)
Det. Paul Diskant in Street Kings (2008)
Jimmy in The Loss of a Teardrop Diamond (2008)
Nick Gant in Push (2009)
Jensen in The Losers (2010)
Lucas Lee in Scott Pilgrim vs. The World (2010)
Mike Weiss in Puncture (2011)
Colin in What's Your Number? (2011)
Quotes
Fantastic Four
"a twenty something year old spaceship pilot, who pilots the spaceships. I look at it as; you must have seen Top Gun, which was about a school who were the best of the best of the best, pilots who do high risk jobs, and guys who risk their lives. These guys get in a cockpit and do what a handful of people in the world can do, and I think that instigates a little bit of arrogance. I have met pilots, and have seen documentaries on them these guys have got attitude 'cos they know that what they can do is only capable by very few people. Maverick and Iceman are guys who are just cocky sons of bitches with attitude, they have a good time, they laugh hard and they play hard."
"What's not to like about having a superpower? That's like every little boy's dream, isn't it? What kid didn't run around praying to be Superman? So it's definitely satisfying the child in me."
"The Fantastic Four had a lot to do with my concerns about playing Captain America. Those Fantastic Four movies…how do you say this correctly? This is where interviews get tricky. If you're going to get locked up in a long-term contract, you've got to make sure the movies you're making are movies you'll be proud of. With a lot of movies I've made, I've had something to question. And the Fantastic Four was a three-movie deal (though only two were ever made). Captain America was a six-picture contract (counting three Avengers movies). And Robert Downey Jr. had already set the tone with the Iron Man movies, there already was a following. So those six movies were for real. Had I not done these movies, it would have been the biggest mistake of my life, my biggest regret – and there are plenty. In retrospect, Marvel has been a beautiful element in my life, affording me the opportunity to do such things"
"I think it's great that they're picking it up again. There's a lot more story to tell. And I think Michael B. Jordan is just a phenomenal actor."
"It's so funny, you almost feel precious over the role that you don't want someone else to do it. But when you hear someone phenomenal is doing it, it's very exciting like you almost can't wait. I couldn't even give that guy any advice if I wanted, that guy is so good. It's exciting to see what he's going to do, because I know he's going to reinvent it in a way that I could never have imagined. It's almost like we're sharing, the character is ours. I feel like I'm connected with him in a way, It's a nice feeling."
"I think Marvel is doing really good stuff right now. They've branched off, they've kind of taken control of their material. I think they're really making great movies. Kevin Fiege over there is just a guy that I completely trust, he's so smart. Anything that he's behind, it's exciting."
"Steve Rogers is a fun character. He's just this very noble, honest guy, he's a good man. Even if he wasn't a superhero I think he would still be an interesting story about a guy who wants to do the right thing and gets kind of saddled with a lot of responsibility and this great gift. So it was just a great story regardless of the comic book background."
"It's an amazing costume. Given the fact that his costume is red, white and blue, and it's tight, and it could be kind of flash and over the top – and given the fact that the movie takes place in the '40s and '50s – they've done a really good job of making it look really cool."
"We've been testing a lot of shields. Last time I was in London they had six shields and I had to hold each one, see if I was comfortable with each one, see which one we all thought had the right look. The thing is pretty heavy, so I'm not sure I can throw it that far! I'll give it my best shot, but hopefully they'll have some sort of stunt shield when it comes to actually chucking it!"
"It's not this sleek spandex suit. It looks like something you might wear in the '40s in the middle of a war."
"There's a couple stages and initially in the script, Steve isn't Captain America right away. He gets the injection and isn't asked to go to war right off the bat. He's used in different areas and different facets, so he has different stages of the suit. I don't think he actually jumps into the final suit until the third act of the film."
"Well, during the USO tour, there's obviously a different shield. And he goes on a couple missions, he goes AWOL and kind of takes the USO shield. And eventually, once he's kind of allowed to be this soldier, and they outfit him with the new uniform, they decide to outfit him with an updated shield."
"They got some great stuff going on right now. Initially they were going to do all body replacement — hire another actor completely and have this skinny body do the scene and do face replacement," "But I guess the first couple tests weren't what they were hoping it would be, and then they decided to go with just shrinking me down. They did a couple tests. It looks fantastic and it's really going to be a big transition."
"That's what I think is endearing, that's why I think it's great, it's an origin story. You get to understand how he has come to appreciate the gift he's been given."
"The nature of comic book movies in general — I mean, with Wolverine, you've got swords coming out of a guy's knuckles — it's all a bit fantastical, it's about finding a good script, a good director and finding a way to ground it in reality, Even if it is a bit dream-like, as long as you stay consistent, if you can get the audience to commit in the beginning and go for the ride, I think they'll jump on board and not try to burn holes in our consistency."
"They did mix in some good comedy, it's not comedy on the nose — we're not cracking jokes — but they did find a way to add humor."
"As far as the look of it's concerned, I definitely did ask [director Joe Johnston], 'What kind of gloss are we going for? Is this going to have that Spider-Man, Fantastic Four shine?' And he said it's not going to be that glossy or that colorful, but it's not going to be something as dark as something like 'Batman, I think it'll be a nice happy medium. I think the world of 'Iron Man' was done really well. It stayed grounded in reality but still stayed true to the fact that it's a comic book movie, so it does have to have some life to it."
"Yeah, absolutely. I'd been in the gym for a bit. It was tricky, I was working on another project prior to this. So there was a limit to how big I could get, because obviously I can't morph—"
"That's where I was going," "We do have fantastic bodysuits and I'm wearing mine right now. They have these really great body suits that make everything fill out in all the right places. I've got skinny legs!"
"It wasn't an easy yes. I was nervous," "I get nervous in things like this and Captain America just means a lot of this. I was in a really happy place in my life; kind of in a happy medium place in my career and Captain America just changes things and there's no 'off' switch once you walk down that road."
"There was nothing wrong with the project!"
"I love the people involved, the characters, the script, Hugo Weaving. There was nothing wrong there. It was just about the lifestyle change and whether or not I was willing to do it. But there's no turning back now. I'm just trying to make all the negatives into positives and just enjoy the ride."
"Sebastian Stan is fantastic. He just started his first day at work. They make for a great relationship…So far, I think the plot line between Steve and Bucky has been fantastic… An origin story is so effective in trying to set up who these people were and the relationships they had prior to these extraordinary things happening to them…I think it could really sell the relationship between Steve and Bucky and Steve and Erskine. It'll only pay off more in the end."
"It is a big responsibility. I'm a little scared, to be honest. I'd be lying if I said anything else, and I have no problem being honest about that. It's intimidating. It's a big responsibility and you want to do your best work. I'm not quite sure what else to say. It was a challenging process for me, trying to decide whether or not to do it. I came down on the side of going for it because I really think Marvel is doing some great things these days, the script is great and it's going to be a fun character to play. He's a wonderful character, just as a man, aside from the comic hero background. If it was just a story about the man, Steve Rogers, I'd be really interested. He's an incredibly noble, honest, selfless man, and those are qualities that I think people can aspire to and look up to."
"It was tricky saying yes. A couple of sleepless nights were involved. I'm going for it and I'm not looking back. I'm trying to just stay positive and focus on the fact that it could be a great thing. It really could be, it should be, and that's the way I'm looking at it."
"This is obviously going to be a very time-consuming ordeal, not just with Captain America , but with The Avengers. They'll shoot back to back. The shoots are long. The press is very time-consuming. It's going to be very tricky. These are all the things I've had to try and weigh. But I said, "Well, if you do this, hopefully it will enable me to make whatever I'd like to make in the future." That's an opportunity you want. It's chess, really. Sometimes this one move isn't going to bring you everything you want, but five moves down the line it just may. So, again, it was pros and cons, and the pros won out."
"At the time, I remember telling a buddy of mine, 'If the movie bombs, I'm f—-ed. If the movie hits, I'm f—-ed!'"
"I was just scared. I realized my whole decision making process was fear based, and you never want to make a decision out of fear.'"
"I can't believe I was almost too chicken to play Captain America."
"As far as the physicality goes, that comes from the serum, and I think special effects will help me carry the load. As far as who he is as a man, the reason he's chosen for this experiment is because he has a pure heart. It's the morality, the nobility. He's a real redeeming character to play, it's exciting to think of playing him. I actually have a friend of mine who I'm modeling the character after. This guy is actually an Eagle Scout, he's one of those guys who stayed in the Boy Scouts all the way until he was 18. He's just a good human being. He does the right things, he's open, he's honest, he's sincere, he's selfless. It's something that I think everyone aspires to. A lot of time I play characters who don't have any redeeming quality [Laughing]."
"It's great so far, They're so entusiastic. They want the product [to be] as good as you want the project to be. These guys live and die for it. It reminds you why you make these movies. These people want it to be good so desperatly, that you so desperatly want to give them what they're looking for. The last time at WonderCon, we were in the middle of an interview, and I had to run to the bathroom. I raced around the corner and I threw open the bathroom door and as I was walked in, I literally bumped right into a Stormtrooper. It was the funniest thing in the world. He just washed his hands, and he picked up his helmet and blaster. It was awesome. I just laughed the whole time I was in the bathroom."
"I can understand if fans are wondering. That's okay. I'm obviously taking their concerns to consideration, but I can't get too swept into it, otherwise I'll start beating myself up and losing my confidence."
"When I was deciding whether or not to jump on board on "Captain America," that certainly came into consideration. Well if I do "Captain America," in a few months, I'm going to get to work with [Robert] Downey Jr. and Samuel l. Jackson and all these amazing actors. That's a dream. But I'm trying not to get ahead of myself."
"It's just nice having a group of people to prepare with and rehearse with and come to set every day and bounce things off of. it's always nicer to play a back and forth game when you're trying to act."
"There was one scene when my character does this Parkour thing up a building and I thought great, I've always wanted to mess around with that. The stunt guy showed me a little video of it right when I got to Puerto Rico, kind of the idea of what he was thinking. I said, this is great, let me know when we're going to shoot this and I'll give this a whirl. We got to that day and I was stretching and I was all ready: I got my little pads on. I walked on to the set, and I said, "Okay can the stuntman just show me what he's doing just once." And then the stuntman just scaled up this building-and I said, "Okay I'll be in my trailer. Good luck guys, I'm going to have nothing to do with that. I don't know who the hell thought I was thinking I could touch my toes a few times and then go out there and scale a building."
"I am definitely optimistic about the films that are coming out. I think it's no secret that I've been a part of a few films that have missed the mark. And it's upsetting when that happens. It's upsetting working as hard as you can in your respective field given the fact that a film has all these difference creative elements to it and you can only do so much with what you are expected to do. And it's a disappointment when a film comes out and it's not what you hoped it would be. There's really no formula: I've seen a lot of movies that I would have gladly walked out of the theater that made hundreds of millions of dollars at the box office."
"I actually have a friend of mine who I'm modelling the character after. This guy is actually an Eagle Scout, he's one of those guys who stayed in the Boy Scouts all the way until he was 18."
"He's just a good human being. He does the right things, he's open, he's honest, he's sincere, he's selfless. It's something that I think everyone aspires to. A lot of time I play characters who don't have any redeeming quality."
"Man, I'm Frodo Baggins today! They're pretty comfortable, though. I forget I'm wearing them sometimes, and I glance down and go, 'Jeez! What have I stepped in?' I'm already tired. I'm sick of running. Too many days of running. But I'm excited for it."
"I've gotten a bit more used to it. I'm trying to approach this as if it wasn't a superhero movie. It's just about a guy who gets this amazing gift. But the first time I put on the costume, it was a real mix of excitement and terror. 'What have I gotten myself into?' But it's started to feel more like home. A lot of responsibility comes with this costume, I hope I'm doing it justice. Man, I could be wearing this for ten years!"
"I don't know anything. I don't even know what they're thinking, plotwise. It's strange; I'm in a movie and I've no idea what it's about! It's a blind challenge I'm facing."
"He's the ideal human. Not just American. It's what beong a good person is. Steve has overcome all the shortcomings in life and does what's good, what he believes is right."
"When this comic book was created, at a time of Hitler and the Nazis, it was an evil we can all agree was evil! It's pretty much not up for debate. Nobody is like, 'No, the Nazis were alright and I'm gonna tell you why! It's the [frick]ing Nazis and they're going down."
"It's a big commitment, at one point it was nine pictures. We've got it down to six but still, that's making a decision for a big portion of your life. I love acting but there are other things I want to do. I want to write and direct. If the movies do well and they want to exercise all six films, I could be doing this until I'm 40."
"That's a crazy thing to try and process."
"It's important, you know at the end of the day we are doing this for the fans. And if they're not happy, we've missed the mark. You go in and do as much research as you can from the comic books, but you're also trying to make something your own. This is an origin story."
"I think a lot of the comic books deal with after he's become Captain America, so to some degree we had to take some liberties. But you want to make sure you've done your homework."
"You want the character to be the icon, but if you reduce him to a red, white and blue outfit it makes him shallow."
"It wasn't until we got our hands dirty with the script and had a good couple of scenes in the can, that I thought, 'Man, I think I'm actually getting this guy.' I feel like the character now, much more than a shield or a mask."
"When you put it on first thing in the morning you think, 'Man, this thing is stiff,' "Then you spend four hours sweating in it, it starts to loosen up and by the end of the day you kind of forget it's even on."
"It's like putting on a pair of ski boots: you're like, how am I going to work in these things? An hour later you're skiing and you're not even thinking about your feet."
"Steve has been dealt kind of a lousy hand in life," Evans says. "He's 5-foot-nothing. He's 110 pounds. He's got a lot of ailments, but it hasn't made him bitter or jaded or anything. Even after he's given this great gift, he still continues to do the right thing, not to prove anything to anyone other than himself. He just has this great moral code."
"Captain America was invented essentially for American propaganda. I mean, who was going to be like, 'Nah, the Nazis, they were OK. They had a few (good ideas)!'"
"It's safe to say we can all agree it's pure evil, right there. So it's fantastic to create a character of pure good, pure honesty and true morality, and say this is ultimate bad against ultimate good."
"It's a pretty cool-looking thing actually, he takes off and my character runs and dives in and swims after him and grabs the submarine and punches it. It's this whole underwater thing, and as I was reading it, I was like, 'Oh my God, I've never done a scene underwater. This is crazy!' And it was. It was like five days in this giant tank underwater. They yell 'Cut!,' you swim over to a guy with a respirator and a tank, and you breathe. Then you take it out and he yells again. It was just a crazy thing but it was fun."
"That's one of the appeals to me, I think that's going to be a good selling point for the film. Joe is so good at creating that world. You'd walk on set and you're like, 'Man, I can't believe where I am right now. This is wild.'"
"I didn't breathe, no, I don't know if they washed it. It was this type of canvas – there were leather straps. It was a lot of layers and pieces and very cumbersome. Every morning you'd put it on and you'd have a little conniption fit in your trailer where you were just like, 'Arrrgh!' and then you'd just surrender and say, 'OK, let's go make a f#@king movie.'"
"I shouldn't be swearing. Captain America shouldn't swear. But I get caught with these interviews and I start dropping f-bombs! This is why I can't do interviews!"
"Ugh, so much training. It was tough. I've always been in the gym and worked out and things like that, and I've had to get big for other films, but nothing like this. They flew a trainer over from London – I was in Boston working on a film, and we did three months prior to shooting. We were working out every day for just about two hours, sometimes twice a day, and it was just grueling. I've never trained like that in my life. I'm just getting back into it now and gearing back up and trying to get big again."
"You want to play a character that has conflict that's what makes a character appealing to an actor, getting to find an arc and a reason, something to chew on. And that's a lot. If you woke up one day and it was 50, 60 years in the future and everyone you knew had passed away and the entire world around you is different you don't have a friend, you don't know anybody, you don't know anything that'd be a lot to take in. It's exciting as an actor to try and tackle that."
"When I saw it, I was like, 'My family is gonna die.' This is what I looked like for all of all middle school. Up until maybe sophomore year, I was a pretty skinny kid for a long time. It looks pretty normal. It was a crazy process doing that stuff. They went back and forth on the type of technology they were going to use. Initially, they were just going to do body shrinking, and then they thought, 'Well, maybe we can get another skinny actor and put Chris' head on it,' and I really, really was against that. I said to Joe, 'Look, I know we want this to look good and this effect to not be distracting from the film, but it has to be my performance. I don't want to share this. Your body is a huge piece of the acting puzzle, and I don't want to have somebody else's body tell the story that I'm trying to tell.' So they did some tweaking and they did a bunch of tests and we went back to the initial plan to shrink my body. Anytime my body's completely still, if I'm lying on that bed or if I'm sitting in a chair not moving, it was easier for them to put my head on a smaller body. But anytime there was movement or action or acting involved, Joe and I were pretty adamant about saying, 'Look, you've got to shrink me down.' And they did. I haven't seen the film yet, but I've seen a couple different scenes of the shrunken stuff and it looks amazing."
"Oh, that looks so badass. You'd be talking to Hugo on set and he'd be wearing that thing, and you kinda want to just touch it. It looked so good! It didn't look fake it looked like there is a man with a red skull standing next to me who is evil."
"Oh, I can't wait. [Laughs] I'm hoping they only want to talk to Robert and Scarlett. Please! That's all I was thinking about with The Avengers. Just get through Captain America and then I can disappear into the background come press time. The movie's one thing – obviously you want to act and it's fun to make a film and play a role, but come press and interviews, I have no problem being way in the back seat and trying to let everyone else take the heat."
"It's all still terrifying. It's a lot of responsibility and a little nerve-racking. As actors, you make movies for the audience — you really can't act without an audience, otherwise you'd be crazy. And this is such an important thing for the audience, you really want to make sure you get it right."
"As soon as we stopped shooting, I stopped going to the gym. Oh, my God, I never wanted to see another weight in my life! I completely just dove into a bowl of lazy for about two months."
"It's enormous in scale. You have the meeting of all these superheroes, all these huge personalities and huge abilities coming together. It doesn't gel right away obviously – there has to be conflict, and there's plenty of conflict. It's pretty epic."
"It was a couple of weeks weighing all the options. There was certainly a period where I was shying away from the movie. It's intimidating. It's pretty daunting. There's certainly a life-changing role there and that was part of the process."
"Did I want to take this on? I like supporting roles, I like the way my life is now and I have the best of both worlds. This would potentially change that. But you know what? This could be a good thing."
"Sure. It's great to get an experience of the press tour and the craziness and the workload after filming. Filming is one thing, but all movies are relatively similar. The work comes in the form of press. You go all over the world and you don't sleep and it's just answering a lot of the same questions thousands of times and trying to promote this thing you've worked on so hard. But the good thing about Fantastic Four is everyone wanted to talk to Jessica [Alba]. No one wanted to talk to me! [Laugh] It was great! I got to sit in the background and be there, but not have to really carry the load. This is obviously different. It's nice to have had a little taste but yeah, it's gonna be nothing close to this."
"No! My God, I hate it! [Laughs] I almost didn't do this movie because I hate that so much. It's just not for me. I don't know, it's a strange thing to talk about yourself. You have to look at it as a job, you have to look at it as work. If all of a sudden you stop – at least if I stop — in the middle of an interview and look at myself, I become very uncomfortable, very nervous. It just feels strange. I feel false, it doesn't feel right. This movie is a lot of that – it's gonna be a lot of press. I have a little bit of an anxiety issue. I wasn't making whatever movie I wanted to make – you still have to struggle — but I was very happy, very content, with what I was doing. I'd make a movie every now and then and I've made a good living and I got to do what I loved and I managed to stay out of the public eye, and I was very happy. This was one of those things where it was like, "Alright, if you do this, there's really no off switch. There's no rewind. You've got to make sure you're ready and that you really, really want this." A lot of times, people only see the good part and they forget how tricky it can be. For some reason, I only saw the bad. [Laughs] When I first got offered the movie, I just only saw the negatives and ran from it."
"The fact that I was scared. I said to someone close to me, "I was offered this movie and I think I'm going to say no." And she said, "No, you're not. You're going to do this movie." I said, "Why?" And she said, "Because you can't live your life based on fear." That's a really good point: I think I'd end up having more regret if I didn't do it because I was scared than if I did it, and whatever comes, comes. At least I wasn't a coward."
"When I signed up, I thought they were going to use special effects to shrink me down."
"Not to be an annoying actor about this, but the skinny part of the performance is going to be when the audience decides if they care about Captain America, because Captain America is that little guy at heart. It had to be me. I had to make that guy."
"It's a great story about a relatable guy, he's an underdog who despite shortcomings chooses the good instead of bitterness. I think anyone is capable of that."
"There is a Captain America song, but I don't sing it. Initially in the film, when he becomes Captain America, long story short the serum is destroyed and they can't reproduce the experiment so I'm the only super soldier there is. The U.S. government won't allow me to go to war because it's too risky and they can't afford to lose me, but they use me as a propaganda tool and they send me on a USO Tour. So there's a whole Captain America song, and they try to make him a little bit of a celebrity to try and sell bonds. There is a Captain America song, and there was a week of shooting, and I had that song in my head. I couldn't stop humming it! It was so annoying. But it's a funny sequence actually."
"At the end of the day we are doing this for the fans and, if they are not happy, we have missed the mark."
"So obviously you go into as much research as you can with the comic books."
"Well we did sign a six picture thing, so there's potentially three Captain America's and three Avengers. We're about to start The Avengers on Monday. That's the next thing. Then we'll see how Captain America does in July and if does well, I'll be back for round two."
"Yeah, they are working on the next script. It doesn't cost them too much to start working on the script, just to get prepared. If the movie bombs, you know..."
"It's gonna be tough. The good thing though is it's all in the same family, it's all under the same umbrella. Marvel will make it work. I might not have a lot of downtime in my life, but they'll figure it out."
"That was a big concern when we agreed to do the film. I said look, 'If do this movie, I don't want to only be in a blue superhero outfit for the next ten years. That's just not creatively satisfying."
"My agent was aware of that and my agent also represents Downey and . He's experienced in the world of handling Marvel and just being fair to the actor and letting them have time to be creatively satsisfied."
"I feel pretty confident that Marvel will make sure to either take some time off or go and feed my soul to make movies with these guy. Do something that means something on a different level."
"Yeah, of course! You gotta. The Captain America stuff is great, it's fun. I actually do connect to the character; I love that character. But for me, the thing I struggle with on those films is the process. The way the film is made. It's a very big movie, there's a lot of waiting around. This film, we shot… 25 days? 25 filming days! That's insane. It's like 90-something with Captain America. We're doing 7-to-8 pages a day on Puncture, and Captain America, we get — y'know, half a page. We're lucky if we get a page."
"I've seen quite a bit, but I haven't seen a full cut. Everything I've seen, I really like. I don't like jinxing things because I've made some films in the past that I've seen bits and pieces of that I liked and then you see the full film and get the full experience and the full pace and the journey and it might not be the same thing. Individual scenes in a vacuum can be misleading. I will say this: Every single individual scene that I've seen I've loved."
"I was pretty nervous. I remember the first time I went to a fitting and I put on the suit and I just was so terrified, so focused on the negatives, still. I'm not quite sure when it turned. I bet when I was at that Comic-Con [in August], I was probably still terrified, probably still apprehensive about whether or not this was right."
"I can't believe I almost didn't do it! For better or worse, no matter what happens with the film, whether it's a good film or not, it was the right thing to do and I'm glad I did it."
"A great story is a great story no matter when it's set. Just think about text messaging, that's the way I communicate with my friends now. If one them calls me I'm like, 'Why didn't you just text me?' And that's pretty new. Cellphones haven't been around that long – I remember when people didn't have them, really – and the Internet has totally changed the world in a relatively short period of time. Think of how strange all of it would be to someone from the 1940s who looks around and wonders what happened to all the things that were important to them."
"They nailed it, it works, they really put a lot of time into it. It was a big relief for me."
"At the end of the day, you're making the movie for the fans. These movies wouldn't get made if there wasn't a built-in fanbase. They just wouldn't. So at the end of the day, your loyalty is to the people who are passionate about these comic books, so you want to make sure that they're happy, first and foremost."
"Hugo has a presence. You know, it's his face; it's his voice; it's his body. Everything about Hugo belongs on film."
"In 'Fantastic Four,' they only want to talk to Jessica Alba, which is perfect for me, because if I had my way, I'd never say anything. This movie, it's a lot more demand as far as promotion is concerned, which is scary … I struggle with it at times… But 'Fantastic Four' certainly helped break me in to understand the amount that was expected."
"You know, it was pretty intimidating when you first put the suit on. I think I was still a little apprehensive at that time … I agreed to do the movie, but with a lot of nerve. And I think the first time I put the suit on, it was a mixture."
"I really think it's about who Captain America is. That's kind of why I like doing the film. He's just – he's got these indestructible values. You know, he doesn't do the right thing for anybody. He's not doing it to be praised. He's not doing it for rewards. He's doing it because it's the right thing, and that's – that's a really commendable way to live life. And I think that's something we can all aspire to."
"I've seen quite a good amount [of the movie], I like what I saw, I like everything I've seen. But, you know, I'm always apprehensive."
"Until the movie comes out, until the final product is really cut together, you know, I'm nervous, but, like I said, everything I've seen, I really love."
"This was one of the best experiences I've had working with a director to date. I felt like my opinion mattered. Joe's not crazy into giving actors too many notes, but that's great. I want to know the technical stuff and he loves to five it."
"We had conversations about script, character, content. It was a really healthy dialogue and made me want to direct even more. Doing this movie could, should, get me a step closer. The goal is that, even in the last frame of the film, you want the audience to still see him as skinny Steve."
"Ha, well, to me, I'm not trying to get too lost in the American side of it. This isn't a flag waving movie. It is red, white and blue, but it just so happens that the character was created in America during war time, when there was a common enemy, even though it is Captain America. I've said before in interviews, it feels more like he should just be called Captain Good. [Laughs] You know, he was created at a time when there was this undeniable evil and this guy was kind of created to fight that evil. I think that everyone could agree that Nazis were bad and he, Cap, just so happens to wear the red, white and blue."
"He's just a good man. I mean, it's always disappointing when you work with fantastic actors that you respect professionally and then you meet them and realize they're kind of jerks. [Laughs] That couldn't be more opposite with Hugo. He's just the most... I'd say patient man because I can't imagine what it feels like coming in to work at 4:00 AM and sitting there for three hours of make-up and then having to stay in a good mood while shooting. He somehow manages to still be a good person, and he's still so happy to be here and he loves doing it. He's so good at it and he has no ego, he always listens to whoever's directing or whoever he's acting with, he never thinks he's bigger than the part, or bigger than the project. He's just a consummate professional. It's really impressive."
"That's the issue. When I first read the script I thought, "There's a risk of this being bland. I don't know what his internal struggle is. He starts out a great guy, he ends a great guy. Where's the conflict?" Everyone asks the question, "If someone killed your brother, would you want to murder that person or would you take them to jail?". There does come a time when Cap has to remember he's been given this power and not turn into an evil person."
"That's where he is gonna get some conflict. It's gonna be about not just adjusting to the fact that every human being he knows is dead, but adjusting to the evolution in society, and how modern values and morals have changed. But Cap's not a complainer. He doesn't whine. So it's gonna be a matter of finding conflict but without moaning. They do deal with that in The Avengers script."
"In the original Captain America comic books, Bucky was a young guy, kind of a sidekick who Steve had to look out for," said Evans. "We did it a little differently, but the relationship is still very well developed. I think it's one of the best in the film--you really care about these two guys."
"And exploring those types relationships are what can help make good super hero movies great. Watching our protagonist slice and dice handfuls of malcontents can be worth the price of admission, but understanding what fuels the character emotionally is what defines them as a hero--and why audiences will continue to follow their story."
"This movie takes place over two or three years, so we don't see everything Cap and Bucky did over that time period," said Marvel Studios President Kevin Feige. "There are many gaps that can be filled in later."
"He's unbelievable, he's so clever. He lives in the world of comic books, so he has in his head an amazing story all mapped out. When it comes to directing actors and understanding dialogue, he's an incredibly talented writer. If something isn't working for you as an actor within the words, he can walk away for 10 minutes and come back with seven options that are all fantastic and clever and witty and it's got a pace and a banter, he's a great guy to be quarterbacking the thing."
"It's really multifaceted. [Cap] has to accept fact that everyone he knew and loved is gone," "Not only is he alone, [but] the world has changed so much, and I think a big part of what makes Cap Cap was his connection to the way things used to be, this kind of pro-American morality and good-ol'-boy sense of life and doing things, in the modern era, there's a bit of a disconnect. There's not as much human interaction. I think there's more cynicism than there was back then, so it's him trying to come to terms with the way things are."
"They each have pros and cons. This, the first Cap costume, is very cumbersome. It's thick and it's bulky, it's tough to do fight sequences in, but the cowl, the helmet, can come on and off at will. The current wardrobe is a bit different. The suit, the range of motion is fantastic, you can really get some good fight sequences in. It's a little bit more form-fitting. But the cowl, the hood, has some… changes that make it a little more difficult to get on and off."
"He's so great. I can't say enough about him, I really can't. I didn't know what to expect going in to work with him. He's so talented and he's got so much charisma and persona. I can honestly say, of all the movie stars I've worked with, he's the one that when he comes on set, you really feel like, 'Man — this guy's a movie star!' You just feel it. When he comes in a room he just owns the oxygen. He is a movie star, and he's been so great. So supportive, so positive. I had to do a scene with him the other day where I was just nervous, it was just me and him, and I was just terrified. It's Robert Downey Jr.! And he's just, you know, every little take he gives you a fist bump, a little thumbs up, and it just changes your whole day. It probably means nothing in his mind but I go back to my trailer, like, giddy. He really is something else."
"I hope if the movie does well, and if we do a sequel, I really hope they keep doing little flashbacks. I hope they do like a whole subplot. The WWII is just so cool. I love movies like that. I love period pieces. I love walking on set, and like the whole street, the cars, the signs, the wardrobe… I mean, man, that's great! It's so easy to play make believe when all of this shit is happening, and I think it meshes well with Steve's character. His persona is one that really is a fish out of water in modern day. Modern day is a flash. It's impersonal. It's Tony Stark. And Steve comes from a place where its much more wholesome and earnest and human and direct, and I think that the character just fits so perfectly in that time period. I think they'd be fools to not try & have it live there in the sequels - if we do them."
"It's great. Like I said, he's a fish out of water; everyone in the world he knows [in the present day] is dead, and he has to go work on a team with [Tony Stark], who is the epitome of modern day, of flash, of style, of this kind of indirect and impersonal sarcastic, selfish behavior. [Steve Rogers] comes from a world where the sacrifice play is the only play, so it's a great dynamic between the two of them. And you throw Howard Stark in the mix, the fact that this is a guy that Tony has heard about his whole life, and now he's sitting in front of him. I don't think Tony is going to respond too kindly to that type of guy."
"It's been great, it's a lot different than 'Captain America,' in the sense that on 'Captain America' you're the only one wearing a funny suit. On 'The Avengers' you're kind of like, 'Oh, we all look a little silly,' then very quickly it's real all of the sudden. You see Hemsworth in the cape, Downey Jr. in his Iron Man suit, you think, 'Man I'm part of something really cool!"
"I first saw the [cast] and I was like, 'Man, I wish was working with them. Oh wait, I am.'"
"[Tom Hiddleston]'s a part of he crew, we hate looking at him as a bad guy."
"The good thing about Cap is that most of his abilities are rooted in what a human being is capable of — he's not flying, he's not shooting fire. For the most part, the stunts involved were hand-to-hand combat, so any time I can put the gloves on and get in the ring, I'll do it."
"There are a couple scenes, but I'm not going to tell ya. We've got some good fight sequences. There are some big ... you'll have to go see [the movie]. You'll have to go see it."
"These are all things my mother will collect and will fill our entire basement with."
"Courage does make a hero. He speaks the truth."
"I don't think he's the coolest guy—he's far from it. He's a straight- shooter. He's probably pretty boring as far as a character goes, but I feel like he grounds things. When you have these giant personalities and egos, there needs to be someone who brings them back down and reminds that this is a team, not the individual show."
"The first time I read the script before I took the job, there was a little hesitation, because as an actor you want to sink your teeth into something raw and grittier. The truth is, I've grown to really fall in love with the character. I have a friend in Bosnia that I based the character off of, who is very down-the-middle, very straight-laced, but the best guy you'll know. And when you really live in that headspace all day for months at a time, you can't help but take some of that home with you. This sounds silly, but you like the way you feel about yourself. You like the way you look at things when you really are doing things for the right reasons. No ego, completely selfless. It's a great way to be. I've really grown into the guy."
"I don't think he's the coolest guy—he's far from it. He's a straight- shooter. He's probably pretty boring as far as a character goes, but I feel like he grounds things. When you have these giant personalities and egos, there needs to be someone who brings them back down and reminds that this is a team, not the individual show."
"The first time I read the script before I took the job, there was a little hesitation, because as an actor you want to sink your teeth into something raw and grittier. The truth is, I've grown to really fall in love with the character. I have a friend in Bosnia that I based the character off of, who is very down-the-middle, very straight-laced, but the best guy you'll know. And when you really live in that headspace all day for months at a time, you can't help but take some of that home with you. This sounds silly, but you like the way you feel about yourself. You like the way you look at things when you really are doing things for the right reasons. No ego, completely selfless. It's a great way to be. I've really grown into the guy."
"It's a lot easier now. Now that we've gotten past that first wave of Captain America and the press and all that madness and now we're into The Avengers, where I get to share some of the work load, it's become a lot easier."
"Stan Lee's fantastic. He did a cameo on the Fantastic Four films, so I've met him a few times, and he was just amazing. He's a living legend. He's got so much energy and so much personality and he's so positive, always smiling and always cracking jokes. He really is one amazing human being."
"There are a lot of growing pains that The Avengers have to work out in the first film but I'm not going to get too into detail because Marvel will kill me. So you'll just have to wait and see the film in March ... May? ... May!"
"The first time I came on set and saw other people in costume, it was a night-time scene in the woods and it involved myself, Chris Hemsworth and Downey Jr. I had just seen THOR maybe two nights before, so I got on set and I saw Hemsworth in the cape and immediately thought, 'God, there's Thor, I'm looking at Thor,' and then I saw Downey Jr. in the suit. It's amazing. The kid in me would say, 'I didn't get to act with Robert Downey Jr., I got to act with Iron Man.' I'd never had that before, where I had seen actors in a film that I was not a part of and then come to work and help them to extend that character's life. It's like being a little kid."
"Big parts of Steve Rogers are his good nature, high morals and strong values. Those morals and values were created in a time when people treated each other differently. The level of interaction was a bit deeper. Everything feels one step apart with all of the technology we have now. A lot of the things that he believed in, stood for and loved have changed. They're not gone - they're just different. He's trying to find his footing in a modern world."
"I think he would be very hesitant to get back into this world if the content of the mission had been different. There isn't anyone who has had more direct contact with the Tesseract than Steve Rogers. So even though he's still adjusting and feeling conflicted with his new life, he's going to give his all to the mission and help. That's just typical Steve Rogers; he has some things to work out, but he knows his country needs him and he's willing to give."
"I've stepped outside of myself more with this character than I ever have before. When we shot our first scene together, I kept thinking about how incredible this experience was. I've seen all of the Marvel movies and now I'm just so excited to be a part of Marvel history. I'm so grateful to come on set and join an ensemble like Robert Downey Jr., Samuel Jackson, Chris Hemsworth, Jeremy Renner, Tom Hiddleston and Scarlett Johansson—it's been an amazing ride."
"I was talking to Joss and he was like, 'So apparently I shot a five hour movie' so a lot of stuff had to go. There was a lot more backstory about Cap getting a bad feel of the world. Just not adapting to the way things work. You can't have too much backstory for each individual character."
"I've been pretty candid in the past, I'm not a huge fan of the studio movies. From 'soup to nuts' the process of making those movies is very tedious and sometimes the final product becomes-the original vision becomes homogenized. And then the promoting process is a real chore. I much prefer these smaller films, they're more my speed. So you do these giant movies and thank god, (Captain America:TFA and The Avengers) were good because they aren't always. They came out so well, I couldn't be more lucky. It affords you the opportunity to go do the smaller things that you want to do. I'm in such a perfect situation where I get to do (the Marvel movies) every six months or so with a group of people I love, I love Marvel and I love The Avengers. And in my downtime I get to go and do movies like this, I couldn't be luckier."
"No, god no. I go into every movie thinking its going to be the worst thing in the world. You hope its going to be great but the fact is, if it was easier to do, there would be more good movies. But making a movie is a giant collaboration of all these creative people, all these cooks in the kitchen, its unfortunate but true,often when I go to the movies I leave disappointed. I'm just like, 'meh.' Most times the best movies I see are at festivals like TIFF. You go to a big, blockbuster summer-movie, what are the chances of you walking out disappointed? Pretty good, in my opinion. So when you jump on board to a giant, studio film, you think 'what are the chances?' What are the chances that this is going to come out good? Unfortunately, slim . So, the fact that (The Avengers) came out the way it did....That Joss man, that Joss Whedon, thank god for Joss Whedon....so good! It's him man, it's him, without that guy these things don't work."
"I'm dreading it (the physical transformation), this is what I keep thinking. We start Cap 2 in March so come January I have to get back into that routine. All I'm thinking about is the future movies, like 'god, how am I going to keep getting big', it's such a chore. I hate to admit it but it's not easy (laughs). It's months and months of lifting heavy stuff and...not looking forward to it. But, it's worth it because I am happy with the movies and I do love the character so come January, my life is going to be different. It's such a commitment, top-to-bottom, its not just lifting, sleep is important, your diet is important. It's a complete commitment but what am I saying, it's good problems to have. "Ugh, it's just so difficult, I'd much rather be in the coal mines" (laughs) ."
"I guess it would be Captain America, I might've said Johnny Storm, Fantastic Four- that was sort of the first time on a big studio movie. After that movie, I think I got put on....there's tiers to your career and I think that was the first stepping stone that allowed me to be in another arena on studio's lists. On an industry scale, I'd say Fantastic Four and on a more public scale, Captain America."
"It [the "Man out of time" deleted scene] was a good piece of the movie, but I think it didn't make it because that's for Captain America 2. I think when you cut the whole movie together I think Joss said, 'That's a different story. That's Cap's story.' So, I guess it's nice that it came out that it shows a little bit richer character for Cap, but by the same token a lot of that stuff that's for another movie. So, hopefully we can kind of still tell that story in a different way for Cap 2."
"I think the next Captain America is in March. I probably won't do anything in-between. I'd probably like a little bit of down time. I have to get into shape for that and I like to take a couple of months to train. It's gonna be at least two months of training. I am not looking forward to it. I mean, I like going to the gym, but these are not gym sessions buddy. You don't even know dude. I'm puking at these gym sessions. It's two hours every day and it's brutal man. I don't do a lot of cardio because I'm not trying to lose weight, but gain weight. But, it's big weights and you're just so long. You'll be working out and you'll be, 'How long have I been here? Only 35 min? I still have another hour here.' And you just leave the gym unable to move. You just know you have to do it tomorrow. It's a chore."
"The most I am looking forward to is exploring a little bit of Steve's…they had all those deleted scenes with The Avengers because a lot of those scenes are for Captain 2, you know what I mean? It was good stuff, but it all felt like that was his story. It is a different movie. With The Avengers there was so much to cram in. So I think making it any longer would have just been exhausting. A lot of that stuff [that was cut] is for Captain America 2. That is his story. It is him trying to on a personal level adjust to the fact that everyone he knows is gone and the whole Peggy Carter of it all. There are a lot of things that he kind of has to come to terms with. So I don't know. I am excited to kind of see flashes of the first Captain, if you know what I mean, and to see his memory of what we now know as an audience of who he was."
"Hemsworth and I even talked about that. I would love to do a little thing in Thor 2. It is obviously going to be tricky trying to work out the plot, the reason why I am not there to help him, and why he is not there to help me. But the best thing about Marvel is that, like I said, the movies were so good and we had such a good time making them."
"I don't have a script yet. We start shooting in two months and they haven't given me a script. That's how Marvel works. Different directors, it's the Russo brothers. It makes perfect sense, Community, S.H.I.E.L.D. superhero action movie."
"Yeah, they'll be some cameos from other Avengers. That's going to get me in trouble with Marvel."
"I fought GSP last night. What would normally have resulted in a trip to the emergency room, was actually an amazing experience. GREAT guy!"
"I would love to do a little thing in Thor 2. It is obviously going to be tricky trying to work out the plot, the reason why I am not there to help him, and why he is not there to help me. But the best thing about Marvel is that, like I said, the movies were so good and we had such a good time making them. Marvel is such a great company to work for. It feels like everyone just wants to pitch in. It feels like everyone…why would I not want to help? I'm not going to hold them over the coals and be like, "Well, it's my contract and guess what? I'm screwing you!" Let's just make this great. If I can help that – great – and make it better? Let's do it!"
"I am fully up to date with my comics. I know all about it. Kevin Feige was talking about that when we were filming the first Captain America and well before The Avengers. During the first Captain America we were talking about potential futures and, you know, I don't want to give too much way."
"Sometimes I will let it slip to like my brother-in-law, who is a huge comic book geek. I will be like, "Oh, yeah, that is what we are doing," and he is like, "What?!" I'm like, "Don't tell! I never said that! Shut up." He is all fired up. But that is the best thing about Marvel. That is why Kevin Feige is a [frick]ing genius. He knows what the audience wants because he is the audience. He is that comic book fan. So he is not like some money man twisting his moustache while being like, "I think they will like…" He knows and he is a comic book fan. So anything that he gets excited about, the fans get excited about."
"Gearing up for Captain 2 you think, "Alright, there was obviously a difference in the workload from Captain America to The Avengers." And you have to get back in the mindset. You have to remember "Alright, this is on you, man. You have to take this seriously." The fact that The Avengers did so well….you have an obligation. There is a serious obligation to fans who are expecting a great movie. A lot of that starts with making sure that you are physically ready to play the role and look the role. So a lot of that is in my head. Come January that is my life."
"That is his story. It is him trying to on a personal level adjust to the fact that everyone he knows is gone and the whole Peggy Carter of it all. There is a lot of things that he kind of has to come to terms with. So I don't know. I am excited to kind of see flashes of the first Captain, if you know what I mean, and to see his memory of what we now know as an audience of who he was."
"There was a scene in Captain America where she comes into the bar in the red dress. We did this scene and we must have done this scene….the coverage on Hayley. She came in the red dress and she tells me a little about dancing or whatever. We must have done that – I'm not joking – about 15 times. The only reason is because Joe would come in and give Hayley a new direction every time and every time she crushed it. The things she was doing…every take I was like, "How is this girl doing something new, different, and great in every single time?" I think Joe was just having fun watching an amazing actress be great. She is phenomenal."
"We haven't really explored his adjustment period. In The Avengers we had so many characters you have to address, you don't really have time to sit with any single one....In this movie there's a lot going on for Steve. He's trying to acclimatise to the modern world. I don't want to give too much away, but it's about trying to find how he fits. He's a man from the 1940s He's just woken up. For everybody else, it's been a slow burn to get to 2014. But for him, suddenly there's the internet, cellphones and The Patriot Act....The technology's new to him and so is the access the government has to that technology."
"I don't think Marvel's ever done anything like this: the brothers said right from the start that we were really doing a '70s thriller. And I think just Cap's abilities mesh well with that kind of genre. I mean, his powers are very meat and potatoes. Faster. Stronger. Punch. Kick. That works with those types of movies. It would be more difficult to put, say, Hulk in that kind of context."
"To be a good man is difficult. To be the best man you can be is even harder. Even though he doesn't choose to wear his baggage on his sleeve, I think that's his skill set. He doesn't moan. There is a depth to him. There are always new things to find. For the first film it was about the new body and responsibilities. Here we get to dive back in with that established. It feels really comfortable coming back to him."
"This might sound crazy, but...[I'd like to see Cap] be wrong. Make a mistake. He's so concerned with being right. Even the struggle in this one, it's about how to be right. His biggest struggle is just being the best he can be, and if he doesn't achieve that, he really beats himself up. His moral compass is so sound, you rarely see him make a mistake. It's everyone around him dropping the ball. So it would be nice to see a little bit of human error or a human flaw, just immaturity or foolishness, an ego, something."
"Yeah, yeah, I am now. The first movie, I just felt like I was lucky to be around. The second movie, you just don't want to piss anyone off; there are so many other amazing people here. Now you start feeling like, 'Well, I'm throwing this barbecue, too.' [laughs] It's a strange feeling being like, "Well, hang on, what if we did it like this?" It's a nice feeling to come into your own. I think the first movie, we didn't even… I'd see myself in the suit and be like, "Who's that idiot in the suit?" It's starting to feel more like real or home or something, so you do start caring a little bit more. So you do run into those kids and they do have that impact and it's a very nice thing. It's a responsibility now. I don't want to make it sound like it's gone to my head or anything, you just care a little bit more about making sure this is good quality stuff because we're going to run the contract. We're going to do Avengers 2. Probably going to do Avengers 3. [laughs] These things will happen so you want to make sure it's pointed in the right direction. You don't want to step on toes, but there's room to be vocal and that's the best thing about Marvel. You can be stuck in a contract at a much worse place, a lot worse place. Marvel's very collaborative. You feel the love from Marvel."
"I think when I'm done with this Marvel contract, I'll take a little break from acting,with acting, you're one piece in a very big puzzle. It's like you helped buy a gift but you don't know what the gift is, so you come back and see the movie. Sometimes it's nice, sometimes it's tragic. This process [directing], you're involved in every single decision. If I hadn't done it, I'd be really kicking myself. At the time, it was a daunting task for a number of reasons, but in hindsight it was the right move," "He doesn't have demons. He's not Batman, he doesn't struggle with inner turmoil. The nature of this character is that he puts himself last and helps the common good. So he could easily slip into a world of boredom, The blessing and curse of Captain America is that he doesn't have that fancy an ability. He doesn't live in another world, or turn green. He doesn't have bells and whistles, he doesn't shoot missiles. He punches and kicks."
"Oh yeah, this was a big thing! I gotta watch what I say. I will absolutely clarify. I have a six-movie contract with Marvel and I absolutely plan on fulfilling them. This is without a doubt the biggest blessing in my life. Marvel has literally changed the game for me, and they make great movies. I did direct last year and it was a really fantastic experience, I really enjoyed it. So I'm certainly looking to do that a bit more, so when it comes to exploring other acting jobs I may not be as proactive in trying to find those, I may kind of stick with my Marvel universe in terms of getting in front of the camera, and then getting behind the camera outside of it."
"Originally they wanted me to sign up for nine Marvel films where I would play Captain America either in the blockbusters of the same name or in The Avengers franchise alongside Iron Man and co.,In the end we found a compromise and I signed on for six. Before I agreed to it, my biggest worry was that my life would change too much if the films were successful. These days I'm more relaxed, because I know the attention comes in waves. As soon as a film is no longer in the cinema, I can pretty much lead a normal life"
"We're buddies! We've been on a little bit of a ride doing these movies. You make really good friendships. It sounds cliché to say: 'We all get along so well!' We really get along phenomenally well. It's like summer camp. In the beginning, you're just so grateful. You're very timid. You're lucky you got invited to the barbecue, you just don't want to get in the way. Now, you feel a little more at home, and it feels a little more like a collaboration that you contribute to. If anything's changed, it's just my feeling of 'welcomeness.' Is that a word, welcomeness? We're going to make it a word, [frick] it."
"He's still looking for a home, probably a metaphorical home. He's always felt comfortable as a soldier. And he likes structure. He works well taking orders. But when that dynamic turned on him, he's now left to depend upon his team, the Avengers. There really is no one above them telling them what to do. They're kind of having to operate independently. So there's a lot of leaning on one another, but there really isn't a kind of clear chain of command. And I think Cap looks for that. I think he's looking to understand where he belongs, not just as a soldier, as Captain America, but as Steve Rogers, as a person."
"So halfway through! I mean, I'm going to miss these when they're done. I really will. This has been a lot of fun, and they're only getting more fun. Especially because there's a trust in Marvel that you're going to make something good. It would really be lousy to be stuck in a contract knowing that you're making shit. And I just don't feel that way. It's really a blessing that this kind of fell in my lap. Sometimes you don't really feel deserving of it. But I'll take it."
"I like all the scenes that we get to have together. In this movie, it's not about having stand-out moments, it's about trying to have stand-together moments. You want to have scenes where you're like 'Man, the Avengers just kicked ass!' If it's every man for himself then it defeats the purpose of what this movie is. We have individual films for that. So I like the scenes where – as a unit – we're all wrecking shop. And we get a bunch of those in this."
"I remember talking to Joss after the fact, after seeing that movie and being like: 'How do we do another one?' Where do we go?' Joss said: 'Well, you gotta go smaller.'"
"Seeing the script, ultimately, I feel like it's bigger. There's a lot more action, a lot of new characters, and that makes it more complicated, but also there's more intimacy in this one unlike the last one. There's a lot more of us together, which I think is really interesting. I think this is an impossible script to write, from the first one to now: There a lot of people and stories to try to tell and he does a really good job with it, and he keeps it very real. There's such a humor to it and that's all throughout this as well."
"I think Captain America feels very comfortable in a sort of leadership role, but I don't think he gives orders. He does structure, organization — he's a military guy. Tony is definitely paying the bills, and since there really is no company to report to, we're kind of this independent unit that needs to rely on each other and work as a team, even in their day-to-day lives."
"It's like a family thing. If Cap 2 was a conspiracy film, and Thor is fantasy, this is like a family drama. That's what Jeremy said so well: Joss made this with loads of really nice intimate, human, grounded moments. Even though this is a giant superhero movie, I think what this tone will be — or this sub-plot or sub-theme will be — is this family dynamic with family struggles and human relatable conflict… aside from us wearing costumes and flying around."
"You just can't be Jason Bourne. We gotta see this guy do stuff that's like, yeah, he deserves a spot on this squad. In [Winter Soldier] he's pinballing off of jets and doing unbelievable things. I don't wanna take a step back, so we gotta make sure that he's continuing training. His fight style needs to advance a little bit. I don't wanna go full Bruce Lee, but there needs to be more than just haymakers and fun kicks. There needs to be a consistent display of strength. Utilize your environment in a way that's like, 'That's right, he can pick up a motorcycle with one hand…'"
"This movie begins with kind of a connection between the two of us, but she has her own arc in this movie. They do really good stuff with her in this one with her personal stories."
"The opening scene is boom, so we don't wanna be like, 'What have you been up to?' That's in no way a cheat. You don't wanna waste your time having reunion moments. You just wanna get these guys fighting together."
"You just can't be Jason Bourne. We gotta see this guy do stuff that's like, yeah, he deserves a spot on this squad. In Winter Soldier he's pinballing off of jets and doing unbelievable things. I don't wanna take a step back, so we gotta make sure that he's continuing training. His fight style needs to advance a little bit. I don't wanna go full Bruce Lee, but there needs to be more than just haymakers and fun kicks. There needs to be a consistent display of strength. Utilize your environment in a way that's like, 'That's right, he can pick up a motorcycle with one hand…'"
"There's an ideology behind Ultron that makes him more unique than just a bad guy. He doesn't wanna just kill the Avengers. He doesn't wanna just destroy the world. He has these monologues and these beautiful speeches that kind of embody a certain mentality about what's wrong with humanity. It represents something deeper than just, 'I'm evil and I don't like the good guys.' "
"Morality hits Tony, humanity hits Tony. All of a sudden he feels responsible. Neither one of them are blindly convicted. It's blurry and that's what makes it great. No one's right, no one's wrong. It's like a marriage: We love each other but it's explosive. You're working toward the same goal but you have very different approaches to it."
"I think we really scratched the surface on something great and I think there's just so much to explore. Not just with the evolution of myself and Mackie's character, but the reconnection with Bucky, and ultimately a relationship with a woman."
"It's funny when you think about it – he's probably a virgin. He's probably a virgin! I don't know when it would've happened. He was on tour. That's true. Maybe one of those girls blew his mind. [Laughs] He's probably just a good guy. He was probably holding out for Peggy Carter and he's a little more old-fashioned in that sense. These are a lot of things that I think are giant conflicts, but they're also very personal conflicts. He's a very human guy. That's why I like him."
"Captain America: Civil War the jump-off into Avengers: Infinity War. Civil War is going to be the setup for the real battle. So year, there are a lot of people - a lot of people in Cap 3."
"I feel like families… you have more struggles with the people you love because you care about them. You can't leave them, you have to make this work. It just feels like when you have a family dynamic of people that you may not get along with, but you can't just cut them out of your life, that's what makes the stakes so high."
"Tony actually thinks we should be signing these accords and reporting to somebody and Cap, who's always been a company man and has always been a soldier, actually doesn't trust anymore. Given what happened in Cap 2, I think he kind of feels the safest hands are his own. And these are understandable concerns, but this is tough, because even reading the script, you think I think I agree with Tony in a way, and I do agree that to make this work, you do need to surrender to the group. It can't just be one person saying this is right and this is what we're going to do. But Cap has his reasons, he certainly has his reasons, and he is a good man and his moral compass is probably the cleanest. This is a tough thing. This is what made it so interesting while we were filming, and it's hopefully what will make the movie great is nobody's right, nobody's wrong. There's no clear bad guy here. We both have a point of view, which is akin to most disagreements in life and politics."
"I love our scenes together because I do think they feel a sense of responsibility. I think they're both very selfless people. They want the right thing, no one's irrational, no one has an inflated ego. They're family-first people. I think outside of the suits we'd be friends, Steve and T'Challa."
"I'd be happy to be in an Iron Man movie. We've been in so many movies together, the titles are almost, at this point, inconsequential. We all win!"
"I think he's looking. You know, I think he's certainly open to it. Sharon is obviously relevant, but...we don't have to tie it up in one movie. So they have time."
"They do respect each other but they're just very different men. You do have those moments of connection, like at the end of Age of Ultron when I say "I will miss you, Tony". There is a love and respect there...and that's what makes it so tragic."
"This is one of the first times Steve doesn't know what side he's on or what the right answer is. With the first Captain America, I think we can all agree that Nazis are bad. The aliens are no good either; we can all get on board with that notion. This conflict is more mirroring that which we deal with on a daily basis, where it's just different points of view. There's no clear right, no clear wrong, and it's hard for him to understand the right move."
"There's collateral damage to the action we've taken, and there's going to be people with different points of view to ours who cause us to regret our actions. Black Panther has a certain cachet and class, so to have him come down the way he does, it provides the audience with someone to identify with."
"There's a great parallel that they draw between my character and Tony Stark. It's something we can all relate to in terms of how we perceive our own society and culture, in terms of what is best for people. You can go right down to Democrat & Republican; everyone has a different opinion of what's best."
"You have this team of people who are destroying every city they go to, but they're saving the world. So it's a matter of, do we monitor these people or do we let them monitor themselves? The beautiful thing with Civil War is that no one's right and no one's wrong; it's just your personal opinion. We're going to have a nice evolution where you have a guy like Cap, who grew up with structure -- he was a soldier and he liked hierarchy, he liked the chain of command. Now, all of a sudden, you have a guy who used to love the system not so sure about trusting it. And a guy like Tony Stark, who used to buck the system and dance to the beat of his own drum all of a sudden thinking, maybe we need some order."
"It's exciting to see a guy who's as optimistic and as selfless as Steve be met with letdown, betrayal, frustration, and selfishness. There are events and people in his life that test him — that challenge him and force him to reevaluate who he is and what he wants out of life. Even though there are a lot characters, the focus is on Steve and his struggle. Especially his struggle with Tony Stark."
"I love when he gets to have conflict. There's a lot of struggle for him to try and keep whatever sense of family he has. It's boring when a good guy knows how to be a good guy. It's much more dynamic when a good guy isn't sure what the good guy move is and has to debate another point of view from someone who may be very close to him."
"Nobody's wrong here. No one's promoting evil. No one's the bad guy. We just have different ways of being the good guy and that can get fiery."
"I say, let's keep going, let's let the wave get bigger and bigger. It's not like they're making bad movies, they're making great movies and if you want to put them in this superhero box you can but they're good movies. They've got a monopoly on it, they're doing it and no one else can try and copy it."
" Guardians would be fun, wouldn't it? But it's very outer spacey. Cap's more of an Earth-bound guy. Maybe the next Spider-Mans. Those are going to be fantastic, and I think Tom's just a great actor, so that might be a fun one to pop up into."
"I'd love to work with Fassbender because he's Fassbender. Him and McAvoy, one of those guys would be great to work with."
"I just heard about that. I really hope that happens! I love Brie Larson. We did a movie together back in '09, Scott Pilgrim vs The World. I cannot say enough about Brie Larson. I think she's phenomenal, and I really hope that happens."
"I had six films in my Marvel contract, so I could have said after the third Avengers I was done, but they wanted to make the third and fourth Avengers films as a two-parter. They said they had so many other characters to fit in – Guardians of the Galaxy, Black Panther, Captain Marvel, Doctor Strange, Ant Man – and couldn't get them all into one movie. [I agreed] because it made sense. It's going to wrap everything up."
Trivia
Chris once dated Blade: Trinity actress Jessica Biel.
Shortly after it was announced that Evans would portray Captain America, the first Marvel character he portrayed, Johnny Storm, was killed off in mainstream comics.
External links
Ad blocker interference detected!
Wikia is a free-to-use site that makes money from advertising. We have a modified experience for viewers using ad blockers

Wikia is not accessible if you've made further modifications. Remove the custom ad blocker rule(s) and the page will load as expected.